You've just booked your trip, and next on the to-do list is getting a new standalone camera that will provide amazing high-quality images. What types are there and how do you pick the one that works best for you? Read on to find out!
1. Compact camera
Best for: Vloggers, families, those who want a pocket-friendly dedicated camera
If you prefer your dedicated camera to be as small and fuss-free as possible, consider a compact camera. They have an integrated zoom lens that, on most models, retracts fully into the body for easy storage! The cameras in Canon's PowerShot G series will fit easily into a handbag while leaving room for other essentials.
PowerShot G5 X Mark II @ 18mm (approx. 48.6mm full-frame equivalent), f/4, 1/2000 sec, ISO 125
Compact cameras offer optical zoom, which keeps image quality consistently good whether you are taking wide-angle landscapes, street photos at a normal focal length, or zoomed-in close-up portraits. As they use a 1-inch-type image sensor or larger and sensor size matters, you can also enjoy better details and dynamic range than the typical smartphone.

We recommend: PowerShot G7 X Mark III
Notable features:
- Slow motion video with Full HD 120p recording 
- A built-in 3-stop ND filter for video recording in bright light
- RAW shooting
- YouTube livestreaming*
- In-camera USB-C power delivery and charging
- Built-in flash with output control
Besides high-quality images, the PowerShot G7 X III also promises rich video functionality, with a microphone socket and cropless 4K 30p recording. Like other recent Canon cameras, you can wirelessly transfer photos and videos to your smartphone via the Camera Connect app.
Know this: Features you won't find on your smartphone
Mode dial with manual and semi-automatic exposure modes
Go beyond point and shoot. Creative control such as manual exposure mode is just a dial's turn away, just like on a DSLR or mirrorless camera.
Tilting/ Vari-angle rear monitor
This makes it easier to shoot from high, low, and unusual angles!
Sample Images and Videos from PowerShot G7 X Mark III
Shoot stunning, high-definition 4K timelapses of the night sky—just one of the possibilities available with the PowerShot G7 X Mark III.
2. APS-C mirrorless cameras
Ideal for: New hobbyists, hybrid shooters, enthusiasts who want to carry more gear with less weight
APS-C cameras provide a comfortable balance between high image quality, interchangeable lens compatibility, and travelling light. Their larger image sensor achieves better dynamic range and detail than the average smartphone or compact camera. They also can do many things that full-frame cameras can do, but are smaller, lighter, and generally more affordable. Small APS-C cameras like the EOS R10 are easy to stabilise during handheld vlogging!
EOS R10 + RF-S18-45mm f/4.5-6.3 IS STM @ f/3.2, 1/30 sec, ISO 4000/ Panorama Shot mode
Original image: 24512 x 4208 px
Use the Panorama Shot mode on your APS-C EOS R camera to easily capture high-resolution panoramas of sprawling scenes.

Our recommendation: EOS R10
EOS R10 + RF-S18-45mm f/4.5-6.3 IS STM
Notable features:
- Up to 23 fps high-speed continuous shooting
- Deep learning-based people, animal, and vehicle detection
- Cropless 6K-oversampled 4K 30p video
- YouTube livestreaming*
- Built-in flash with output control
- In-camera USB-C power delivery and charging
At only approximately 429g, this lightweight 24.2-megapixel APS-C mirrorless camera is equipped with many features similar to those found on advanced EOS R cameras. It does almost everything the PowerShot G7 X Mark III does—and better.
Tips for maximising your APS-C camera travel experience
Try capturing moments, action, and moving subjects
Canon's Dual Pixel CMOS AF system autofocuses quickly and accurately, helping you preserve dynamic images of unexpected travel encounters.

Use a telephoto lens
EOS R10 + RF100-500mm f/4-7.1L IS USM
That APS-C reach brings you 1.6x closer to wildlife, distant landscapes, and even flowers on trees while recording with the full resolution of your image sensor. A lens with a 500mm telephoto end effectively works like an 800mm lens—perfect for wildlife photography trips.
Try different lenses
APS-C EOS R cameras can take RF-S and RF lenses without an adapter. They can also take EF/EF-S lenses with Mount Adapter EF-EOS R. That's over 110 lenses to choose from—and counting!

Sample images from EOS R10
3. Full-frame mirrorless camera
Ideal for: Those who prioritise image quality and versatility; landscape photography lovers
EOS R8 + RF24-50mm f/4.5-6.3 IS STM @ f/5.6, 1/80 sec, ISO 100
Once you've experienced the image quality of a full-frame camera, it can be hard to make do with anything less. If subtle tonal transitions, dynamic range, intricate details, and flexibility in low light are very important to you, and/or you are shooting to print or build a professional portfolio, you would probably find a full-frame camera a worthy investment. 

We recommend: EOS R8
EOS R8 + RF24-50mm f/4.5-6.3 IS STM
Other notable features:
- Professional video features such as Canon Log 3 and HDR PQ recording.
- Full HD 180p recording (Becomes 6x slow motion video at 30p playback)
- Up to 40 fps high-speed continuous shooting
- In-camera USB-C power delivery and charging.
Weighing barely more than the EOS R10 at around 461g (body only), the EOS R8 is currently Canon's lightest full-frame mirrorless camera. It promises the best of both worlds: full-frame versatility and portability! While it has no built-in flash, it shares many similar functions with the EOS R10 with better core performance and video functions.

Tips for taking full advantage of your full-frame camera
Use an ultra-wide-angle lens
EOS R5 + RF14-35mm f/4L IS USM @ 14mm
As there is no crop factor, you can truly experience the ultra-wide-angle perspective.
Shoot in low light
EOS R8 + RF24-105mm f/4-7.1 IS STM @ ISO 8000
"Slow" lens? No problem. A full-frame sensor achieves cleaner, clearer high ISO speed images even in dim and dark conditions.

Sample images from EOS R8
Comparing camera types

| | | | |
| --- | --- | --- | --- |
|   | Compact | APS-C | Full-frame |
| Portability | ««« | «« | « |
| Interchangeable lenses | û | ü | ü |
| Low-light performance | « | «« | ««« |
| Dynamic range | « | «« | ««« |
Bonus: Print out your travel memories
Don't let your favourite travel photos languish in your storage drive or social media. Why not print them out so that you can enjoy them over and over again in real life? They make great decorations and souvenirs too. Here are two compact photo printers to check out.
1. SELPHY SQUARE QX10
Ideal for: Printing on the go
Only around the size of the postcard, the SELPHY SQUARE QX10 fits easily into a shoulder bag so you can even bring it on your trip with you for printing on the go! It prints universally flattering 1:1 square format photos onto special 2-in-1 paper—just peel off the backing to stick the photo into your travel scrapbook! 
2. SELPHY CP1500
Ideal for: Creative projects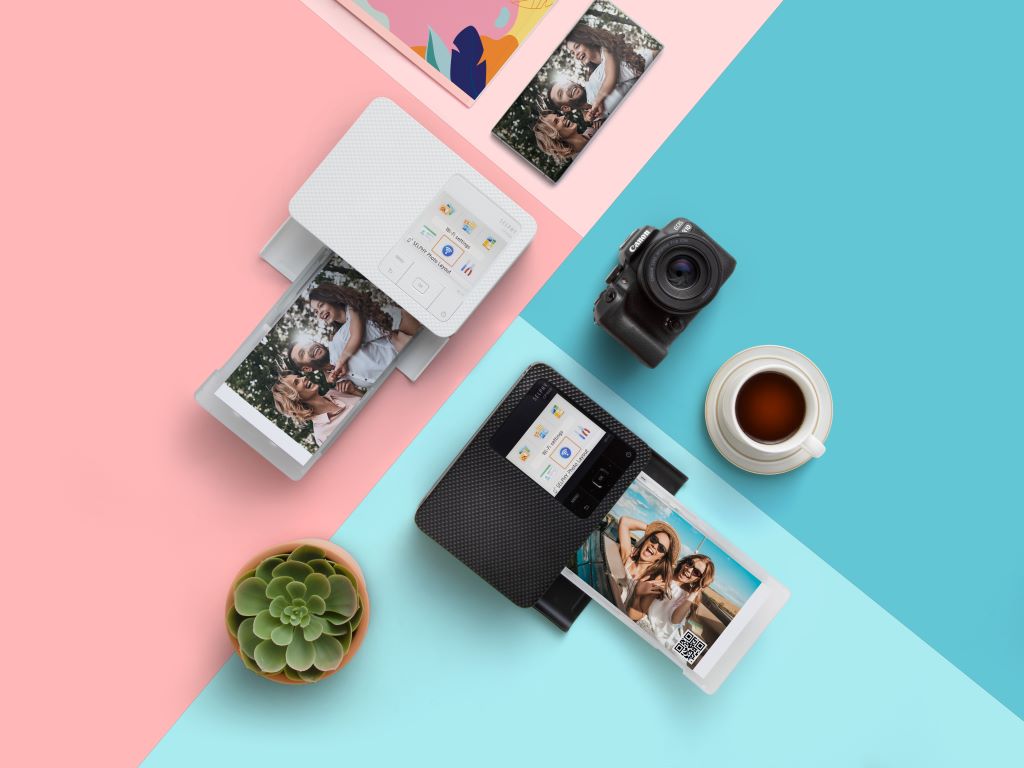 For slightly larger, higher-quality prints and more creative output options, try the SELPHY CP1500 Compact Photo Printer. Images can be sent wirelessly from a smartphone, Canon camera, or computer, or downloaded to the printer from the cloud. Unlimited smartphones can be connected, so how about inviting your travel buddies over for a printing party?
The SELPHY Layout app lets you get creative with your prints.
Beautiful prints that last up to 100 years
Whichever printer you choose, both use dye sublimation thermal printing technology, which achieves smooth colour tones and rich gradations. Both also apply a special lamination that protects them from light, water, oil, gas, and fingerprints, the prints can last for up to 100 years when stored in an album. Someday, if current storage media goes the way of CDs and floppy disks, you (and your grandchildren) will still be able to access those memories.
| | | |
| --- | --- | --- |
|   | CP1500 | QX10 |
| Portability | «« | ««« |
| Smartphone printing | ü | ü |
| Paper type | Label | Standard/label |
| Protective lamination | ü | ü |
| Dye sublimation printing | ü | ü |
| Pattern overlays | ü | ü |