Recycle Old Camera- EOS R5 AND EOS R6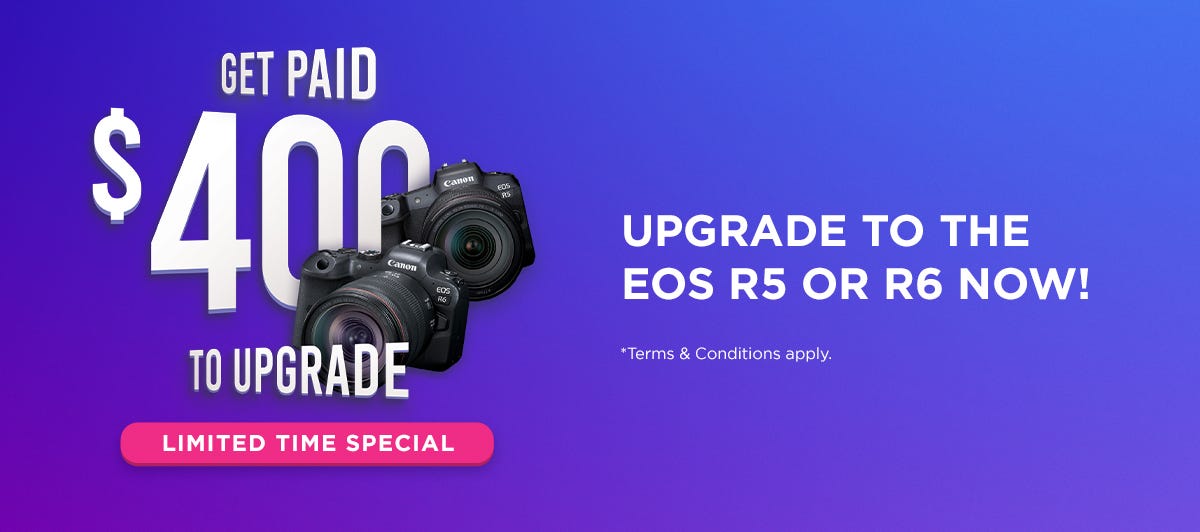 ---
RECYCLE YOUR OLD CAMERA FOR EOS R5 & EOS R6 ('PROMOTION')
TERMS AND CONDITIONS

A. Promotion
(1) The Promotion is organised by Canon Singapore Pte. Ltd. ("CSPL").

(2) To be entitled to the Cash Rebate ("Cash Rebate"):
(a) Customer (who shall be 18 years and above) needs to purchase any of the following Canon EOS R5 / R6 camera models from a CSPL authorised dealer with a valid warranty issued by CSPL between 3 May to 31 May 2021:
▪ EOS R5 Body
▪ EOS R5 Kit RF24-105mm f/4L IS USM)
▪ EOS R6 Body
▪ EOS R6 Kit RF24-105mm f/4-7.1 IS STM
▪ EOS R6 Kit RF24-105mm f/4L IS USM

(3) To receive the Cash Rebate, customer needs to complete the following at Canon Customer Care Centre within 14 days from date of purchase:
(a) Recycle a digital interchangeable lens camera ("DILC") by surrendering the DILC in working condition with camera battery and battery charger to CSPL at Canon Customer Care Centre. Cash Rebate will depend on the DILC as follows:
| | |
| --- | --- |
| DILC TYpe | Cash Rebate |
| Full-Frame DILC | S$400 |
| Non-Full-Frame DILC | S$200 |

(b) Provide original proof of purchase, CSPL-issued product warranty card and proof of online warranty registration for the Canon EOS R5 /R6.

(4) Customer (a) warrants that he/she has full legal and beneficial ownership in the DILC and authority to recycle the DILC with CSPL; and (b) agrees to indemnify CSPL against any claims, liability and expense (including legal costs on a full indemnity basis) arising in connection with any ownership or other rights claim over the DILC.

(5) Customers taking part in this Promotion will not be entitled to any prevailing free gifts tied to the purchase of the Canon EOS R5/ R6. Limited to one DILC Cash Rebate per EOS R5 / R6 camera purchased.

(6) CSPL reserves the right to change these terms and conditions at any time without prior notice. Any other matters not covered in the terms and conditions above shall be determined by the management of CSPL. No correspondence will be entertained and the decisions made by the management of CSPL would be final.

(7) CSPL and its affiliates, service providers and commercial partners may use all contact information and personal data provided by each Customer to conduct verification and other actions in connection with the Promotion (including but not limited to those actions stated in these Terms. Any information, personal data and material about or obtained from the Customer may be accessed, stored or otherwise processed in any medium or format determined by Canon Singapore, and may be transmitted across national borders for storage and/or processing.

(8) CSPL shall not be liable in any way to any person for any loss or damage arising from or in connection with this Promotion

(9) In the event of any inconsistency between these Terms and any advertising, promotional, publicity and other material relating to or in connection with the Promotion, these Terms shall prevail.

(10) These Terms shall be governed by Singapore laws and Customers submit to the exclusive jurisdiction of Singapore courts. Availability of the Promotion is subject to such Promotion not being unlawful or restricted under the laws of Singapore.