Some food items look so delicious or pretty, you just have to take a picture to share on social media. But if you feel that your images are starting to look like just about everybody else's, maybe it's time to try a different angle or style. Here are some composition and styling tips and ideas to help you get that shot with a difference!  (Reported by Reina Kanamori)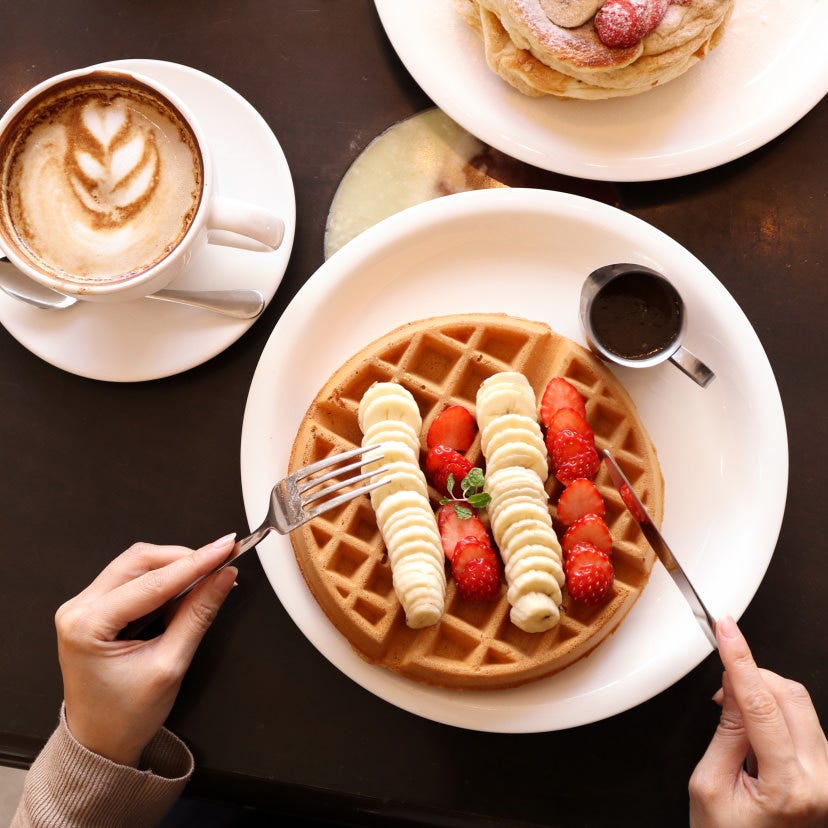 EOS M100/ EF-M15-45mm f/3.5-6.3 IS STM/ FL: 22mm (35mm equivalent)/ Aperture-priority AE (f/4.0, 1/60 sec, EV+1)/ ISO 640/ WB: Auto A flat lay is a great way to showcase the shape of this perfectly round waffle. I kept the layout of the plates casual to give the idea of a fun, relaxed meal. The 1:1 aspect ratio and the square composition draws more attention to the circular plates.  
Technique 1: To emphasize colours and shapes, shoot from directly above
One way to emphasize the shapes and colours of confectionery or a plate of food is to shoot from directly above, i.e., create a flat lay. When you have managed to find your shooting position, change your aspect ratio to 1:1, and then decide on how to compose your image within the square frame. You don't necessarily have to include the entire plate in the frame. In fact, if you are shooting small cakes or pastries, putting the entire plate in the frame could make them appear tinier. The food is supposed to be the main interest of the shot, so close in on to them as you can, even if you have to leave part of the plate out of frame. If you can, take your shot somewhere with natural lighting instead of artificial indoor lighting. This will make your picture look better. If there are props or decorations available that have some height, such as flowers, you could arrange them around the food to give the image some depth and dimension. This also gives viewers an idea of the size of the food.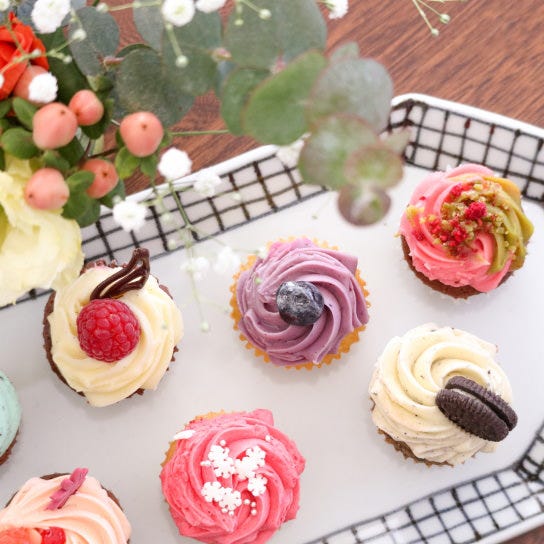 EOS M100/ EF-M55-200mm f/4.5-6.3 IS STM/ FL: 85mm (136mm equivalent)/ Aperture-priority AE (f/5.6, 1/125 sec, EV+0.7)/ ISO 1600/ WB: Auto
A flat lay is a great way to showcase the colourful icing on these cupcakes. I placed the plate slightly tilted to add some dynamism to the image. The table flowers, which were taller than the cupcakes, helped to give the image depth.  
Technique 2: Add human elements to make your viewers feel part of the scene
Having hints of human presence in food photographs can also be a plus, as it adds life and the sense of a story to the image. Capturing moments such as a knife about to slide into a cake, or syrup or sauce being poured onto food, could further add an element of suspense into the shot. Such images are hard to take by yourself, so get your friends who are with you to be your models. You don't even have to show their faces. Just have one part of the body in the frame, such as a hand, and leave the rest up to the viewers' imagination. It does not matter where you place the plate, as long as it's somewhere that makes the viewer feel present in the scene. Don't include menus or anything that is too realistic, but skillfully put in a nice napkin or something similar. This will result in an effect much like a movie point-of-view shot, where the viewers feel like they are experiencing the scene in the first person.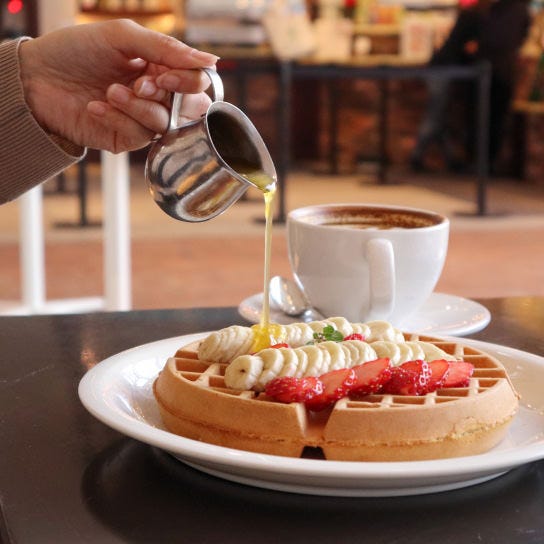 EOS M100/ EF-M15-45mm f/3.5-6.3 IS STM/ FL: 36mm (58mm equivalent)/ Aperture-priority AE (f/5.6, 1/160 sec, EV+1)/ ISO 2000/ WB: Auto Pouring syrup onto a waffle doesn't take as much time as you might expect, so set your drive mode to "Continuous Shooting" and take multiple continuous shots. I recommend shooting from the side to capture the flow of the syrup from the jug downward.  
Technique 3: Make use of interesting backgrounds
This works especially well for food that you hold in your hands to eat, such as ice cream, burgers, bubble tea or smoothies. Chances are that café or restaurant that you are in might already have a colourful or uniquely-decorated wall--all the better for commemorative shots. It will be a bonus if your food comes in attractive packaging. If colours are the unique factor in your shot, increase the saturation to make them appear more vivid. You could also take your shot against the shop's logo or sign to commemorate your visit. Drinks and ice cream cones can be held in one hand while you take a shot with the other. If you raise them and photograph them looking upward from a lower angle, you could get a shot with aesthetics similar to a self-portrait, a "food selfie" of sorts! Your hand will be captured, so to ensure that your skin colour is rendered nicely, pay attention to your white balance and exposure settings.  
EOS M100/ EF-M22mm f/2.0 STM / FL: 22mm (35mm equivalent)/ Aperture-priority AE (f/5.6, 1/60 sec, EV+1) / ISO 160/ WB: Auto
A commemorative photo I shot against the shop's logo on its bright pink wall. I tilted the camera a little and composed the shot from a slightly higher angle. The resulting shot makes the viewer feel as though the cup of bubble tea is right there before them. (Shot with the support of: Urth Caffé Omotesando)