With working and learning from home becoming part of everyday life in Singapore, it might be time to ensure that your home setup is keeping pace with your needs. Whether printing important documents for safekeeping, worksheets and notes for school, or even photos for scrapbooking or home crafts, having printer in the home means convenience for everyone. With a wide variety of options for every budget and requirement, Canon can help make printing a fuss-free experience.
But how do you know which printer will work best for you? Here are some features and parameters to consider when deciding on a best-fit printer.
Inkjet or Laser Printer?
The first question anyone will be confronted with when selecting a printer is the choice between an inkjet or laser printer. Functionally, for the end user, the differences are in terms of function, size and cost, and it will come down to how you intend to use your printer.
Function
Generally speaking, a laser printer is better at printing text and documents quickly and effectively than an inkjet printer. However, inkjets are better at printing colour, while still fulfilling your document printing needs. Hence, if you're buying a home printer, chances are you don't need heavy-duty document printing, so an inkjet is typically the better choice. Laser printers on the other hand reign supreme in office settings where the volume of printing is higher.
Size
Looking at an inkjet and laser printer side by side, it will be obvious that a laser printer is larger and bulkier than an inkjet, especially the more compact models. This may be an important factor when it comes to where your printer is to be located, and how much space is available.
Cost
Another key difference between inkjet and laser printers is cost. Inkjets are typically priced lower than a laser printer, but on the other hand, the printing cost per page of a toner-based laser printer is usually considerably lower than that of a cartridge-based inkjet printer as inkjet ink costs could add up if you print larger amounts. Striking the right balance is crucial.

Choosing your Home Printer: Inkjets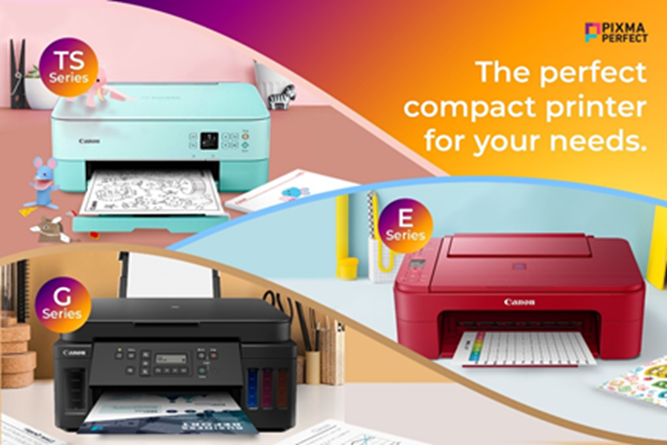 If you've decided to go for an inkjet for your print needs, Canon's popular PIXMA series of printers offer you a versatile range of options to ensure PIXMA Perfect prints, no matter what your needs are.
PIXMA E Series: For All-Round Printing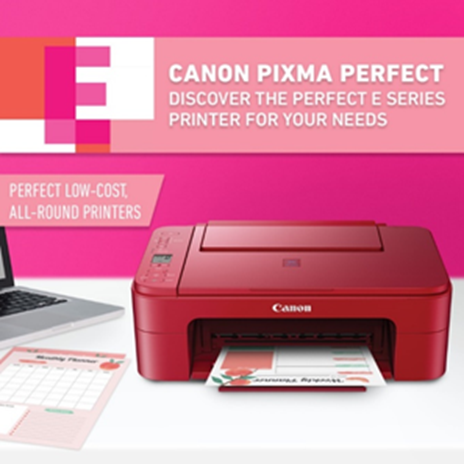 PIXMA E-Series printers are the workhorse of many homes, with a robust array of dependable printing, scanning and copying functions in a compact package. The E-Series is designed to provide low-cost printing in high quality mono and colour.The new PIXMA E4570, a compact wireless all-in-one printer that simplifies your printing experience. It's low-cost ink cartridges ensures long-term savings, making it a perfect choice for the occasional printing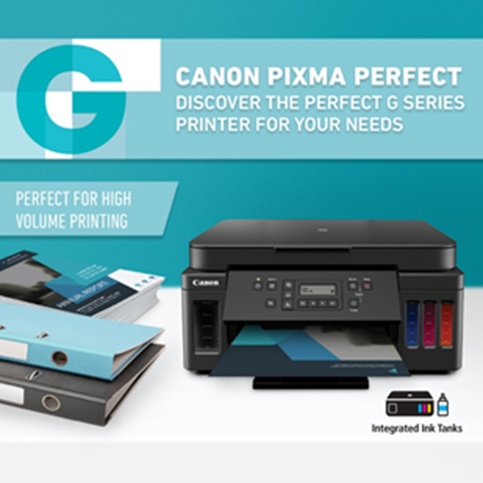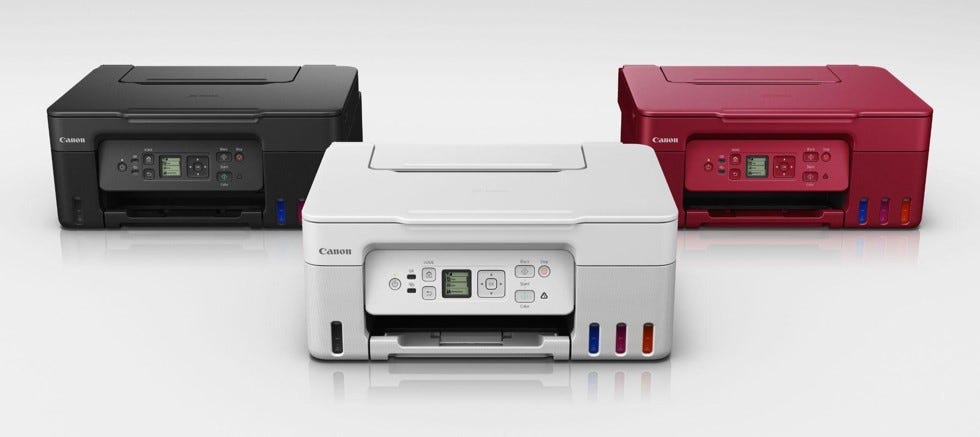 PIXMA G Series: For High Volume Printing
In a world where remote work and online learning have become the norm, having a reliable printer at home is essential. Canon understands this demand and has added four new refillable ink tank printers to its array of PIXMA Ink Efficient G series models, including the Canon PIXMA G3770. The Canon PIXMA G3770 is a resilient, cost-effective printer that boosts productivity while minimising printing costs. Users may easily take on any printing work without worrying about running out of ink due to its excellent print yields and quality. User-friendly features, such as the removable maintenance cartridge and wireless mobile printing capabilities, enhance convenience and ensure a seamless printing experience. Whether it's producing crisp black text or vibrant prints, the PIXMA G3770 delivers professional results consistently. With its versatility, ease of use, and the added benefits of the PRINT Inkjet/SELPHY app, the Canon PIXMA G3770 stands out as a reliable and efficient printing solution for both busy home offices and students.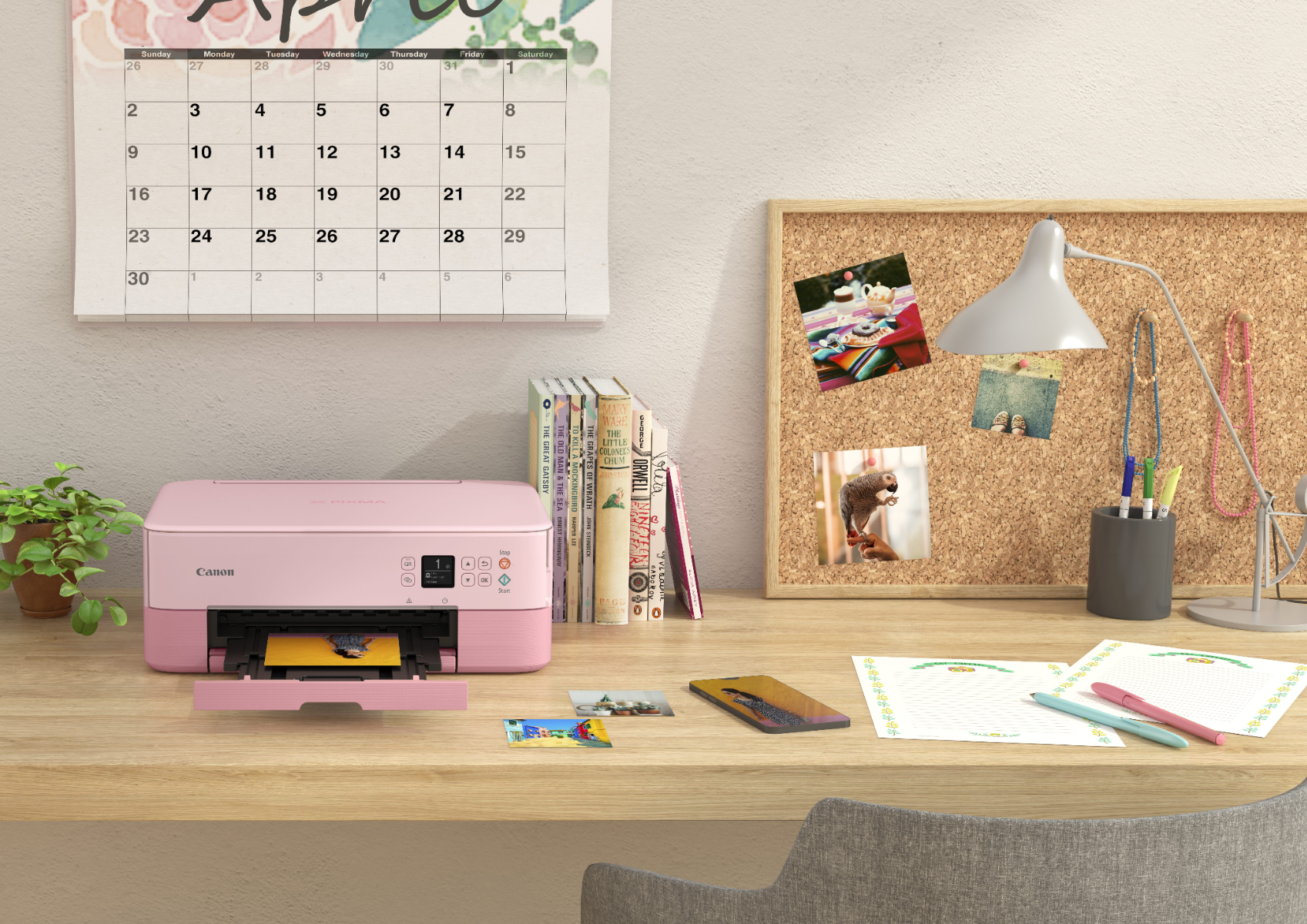 PIXMA TS Series: For Fun and Creative Printing
If your needs are more creative than corporate, the Canon PIXMA TS-Series printers are your best option for premium-quality printing across multiple mediums. These printers offer a variety of opportunities to spark your artistic flare, from photo-quality prints that capture the spirit of your memories to creating detailed scrapbooks that tell engaging stories and even the capacity to print on fabric. Among them, the high-performance wireless picture all-in-one printer PIXMA TS8370a stands out as it offers outstanding print quality and a tonne of inspiration via the Canon PRINT app. 
The Canon PIXMA TS5370a offers many creative printing options to unleash your artistic side. With the Creative Park app, users can explore and print various crafts, adding a personalised touch to their creations. Moreover, the Easy-PhotoPrint Editor app provides access to an extensive collection of templates, allowing users to create stunning photo layouts, collages, and more. Whether you're a hobbyist or a professional artist, these creative printing features open up a world of possibilities. 
The Canon PIXMA TS5370a is available in three stylish colours: Black, Millennial Pink, and Brilliant Green. This allows users to choose a printer that not only fits their creative needs but also complements their personal style and home decor.