Equipped with a newly developed back-illuminated stacked CMOS image sensor that supports high-speed data readout, as well as the powerful DIGIC X image processor that is capable of rapidly processing this data, the EOS R3 excels in speed, achieving a maximum burst rate of as high as 30 fps during electronic shutter shooting. To complement this, Canon has spared no effort in refining the EOS R3's autofocus (AF) performance to complement the camera's speed, ensuring that action photographers can take full advantage of the camera's capabilities. In this article, we take a closer look at the EOS R3's AF features, how they work, and how to use them.
The EOS R3 uses the Dual Pixel CMOS AF II system for autofocusing. Under the Dual Pixel CMOS AF system, each pixel on the CMOS image sensor is equipped with two photodiodes, allowing every pixel on the sensor to be capable of both phase difference detection as well as imaging, hence achieving both highly accurate AF and high image quality. Among other improvements, Version II adds to this the ability to conduct advanced subject detection by leveraging on the powerful DIGIC X image sensor and deep learning technology.
AF systems are complex because they require coordination between different features such as subject detection and tracking to work. In this article, we will look at each different aspect of AF in detail.
AF coverage and changes to AF area modes
AF coverage on the EOS R3 depends on the lens attached and the AF method selected. Up to 100% × 100% coverage is available with almost all RF lenses—in other words, AF is possible anywhere throughout the image area.
On DSLR cameras, different AF systems are engaged during viewfinder shooting compared to during Live View shooting, which can cause performance to differ. However, as the mirrorless EOS R3 uses an electronic viewfinder (EVF), which displays the same image as the Live View display, users can expect the same fundamental AF performance regardless of whether they are shooting through the viewfinder or in Live View.
Whole Area AF mode: Fully automatic AF
The Whole Area AF mode, which has the biggest auto-selection AF area, uses 1053 (39×27)AF frame zones that allow phase difference detection over 90% × 100% (horizontal × vertical) of the entire image area. Coverage is quite dense: each AF frame zone is approximately 0.83 × 0.89mm on the image sensor. The various AF area modes use multiple AF frame zones to conduct high-precision AF. 
When a subject is detected, the AF area expands to up to approximately 100% × 100% (horizontal × vertical) of the entire image area.
Spot AF, 1-point AF, and the two Expand AF Area modes
Four AF area operation modes are basically the same as that on other recent advanced EOS R system cameras: Spot AF, 1-point AF, Expand AF Area, and Expand AF Area: Around. In 1-point AF mode, users can carry out high-precision user-defined AF point placement by using the multi-controller to move the AF point by up to 81 steps horizontally and 59 steps vertically—a total of 4779 possible AF frame positions—over an area covering 90% × 100% (horizontal × vertical) of the entire image area.
The new Flexible Zone AF 1/2/3 modes
Previous EOS camera models had the Zone AF mode, which limits the AF area to allow easier tracking of a target subject via an auto-selected AF point. On the EOS R3, Zone AF has been enhanced and now takes the form of the Flexible Zone AF mode. Users can freely set the size of the Flexible Zone AF frame anywhere from a 9 (3×3) segment area to up to as large as 999 (37×27) segments, and save up to three different Flexible Zone AF area sizes. This provides greater flexibility to set a Zone AF frame size that best suits the subject.

Now enabled by default: Subject tracking, Servo AF
Due to the significant improvements to the subject detection capabilities and tracking capabilities on the EOS R3, Subject Tracking: ON and Servo AF are now enabled by default. The biggest difference from previous EOS camera models is that subject detection and tracking is possible in all AF area modes. As a result, there is no more "Face Detection + Subject Tracking Priority AF" mode. In its place is the Whole Area AF mode.

Subject detection via deep learning; tracking via EOS iTR AF X
The variety of AF modes makes it easier to acquire focus on different kinds of subjects. But when a subject moves around the frame, the active AF point/area also needs to keep up with the subject's changing position. That's when subject detection and tracking become especially important.
The EOS iTR AF (Intelligent Tracking and Recognition) system automatically detects and tracks subjects by analysing subjects' image data such as subject tones, colour, and shapes. The EOS iTR AF X system on the EOS R3 also harness deep learning technology to enable advanced subject detection and tracking.
Detects people, animals, and vehicles
The 'Subject to detect' menu lets users select what kind of subject they want to prioritise: People, Animals, Vehicles, or None.
'People' enables the detection of a human subject's eyes, face, head, and torso. In addition to the face detection algorithm that has been a feature on Canon EOS camera systems for many years, the EOS R3 also uses deep learning technology to enhance existing detection capabilities as well as provide new ones.

Know this:
When 'Animals' is selected, the camera detects and tracks animals and people but prioritises animal detection.
When 'Vehicles' is selected, the camera detects and tracks motorsports vehicles and people but prioritises vehicle detection.
When 'None' is selected, the camera determines the main subject from how you compose shots. Subjects are not detected, and the tracking frame (white box) will not be displayed.

Detecting humans: Enhancements that aid focusing in sports with complex movements

Eye and face detection
On previous cameras, there were certain situations where face detection was difficult, such as side profiles, when there were harsh shadows on the face, or when the subject was wearing a mask or heavy makeup. For the EOS R3, sample images under various different conditions were used to train the deep learning-based algorithm. This improved the precision of eye detection and made it possible to detect faces very accurately, even in tricky situations. 

Head and torso detection
Deep learning technology also expanded the range of subjects that head detection could detect to include winter sports scenes with subjects wearing helmets and ski goggles. Body (torso) detection was also newly added to the subjects that could be detected with deep learning.
All these improvements to detection capability make focusing easier for sports with complex body movements such as gymnastics, where there may be moments where the athlete's face or head may be obstructed. In such situations, the EOS iTR AF X system on the EOS R3 seamlessly shifts from face detection to head detection, or from head detection to torso detection, ensuring that the subject is always being tracked.

Video: Eye Detection AF on the EOS R3
The nonstop movement of the model in this video as she changes poses rapidly is no match for the EOS R3's subject detection and tracking system—notice how it firmly acquires and locks onto her eyes, even when her mask and hair cover almost her entire face! When she turns to face the back, the AF frame stays on her thanks to head and torso detection.

Subjects and parts that the EOS R3 can detect
Subject

Parts detected

Humans
Eyes/ Face/ Head/ Torso
Dogs, cats, birds
Eyes/ Face/ Torso
Motorsports
(Cars, motorcycles)
Vehicle body/ Helmet

Training the deep learning algorithm for dogs, cats, and birds…and vehicles

Detecting animals—an algorithm trained with images of dogs, cats, and birds
When Canon says that the EOS R3's animal detection AF can detect dogs, cats, and birds, what it really means is that images of dogs, cats, and birds were used to train its subject detection algorithm, which was developed via deep learning. For that reason, the algorithm may be able to detect animals from other species that look similar, such as big cats like cheetahs, but have trouble with breeds that humans may not be able to identify as dogs, cats, or birds—such as long-haired dogs that resemble mops. As there are many different breeds of cats, dogs, and birds, the system was developed using a tremendous number of training images, which also enables it to achieve very high detecting precision. Being able to swiftly detect and track animals helps to increase efficiency when photographing birds and other wildlife with unpredictable movement.

Detecting vehicles—an algorithm trained with motorsports in mind
The EOS R3's new vehicle detection capability is another feature that was made possible by deep learning technology. As the vehicle recognition algorithm was trained with motorsports photography in mind, it can detect different racing vehicles such as formula cars, GT cars, rally cars, on-road motorcycles, and off-road motorcycles, although it may also be able to detect ordinary cars and motorcycles.
Besides vehicle bodies, it can also detect the helmets of riders of motorcycles and open-type racing cars.
Know this: Before EOS iTR AF X subject recognition, Canon was already using deep learning technology for its medical image analysis systems.
How subject detection works: Examples
On the EOS R3, the AF area modes serve to "pick up" and lock on the subject that you want to establish focus on (the "target"). As long as the subject is detectable by the camera, you just need to place the AF frame/zone somewhere nearby. The camera will detect the target, change the size and position of the AF frame as necessary, and automatically start tracking the subject. This allows you to concentrate on the composition, timing, and other artistic aspects of creating the picture.
How subject detection on the EOS R3 works
When EOS iTR AF X detects a subject, it automatically starts tracking it, moving the AF frame to the ideal focus position on the subject.
Example 1: If you focus on a bird using Single-point AF, the system will recognise the subject as a bird. If the bird's eye is visible, it will move the AF frame there and start tracking the bird.
Example 2: If you use Flexible Zone AF and place the Zone AF frame on a motorcycle while shooting motorsports, the system will recognize the motorcycle as a vehicle. If the rider's helmet is clearly visible, the system will detect it, shift the AF frame accordingly, and track the rider and motorcycle from there.

Canon EOS R3 - Enhanced Subject Detection
Up to 60 AF calculations per second, AF acquisition in as fast as 0.03 sec
While the EOS iTR AF X system detects subjects and tracks them using image information, it is Servo AF that constantly keeps the subject in focus for every frame that you see in the EOS R3's EVF or Live View preview. This is done by predicting the distance that a subject will move using distance information acquired during phase difference detection.
Tailoring Servo AF to your shooting situation
The high-precision Dual Pixel CMOS AF system can conduct phase difference detection anywhere across the entire image. However, as it focuses on the nearest subject by default, there may be times where the focus switches to an obstruction that enters the frame, especially during continuous shooting.
For that reason, there are five Servo AF Case options tailored for different subject movement characteristics. Each case has different 'Tracking sensitivity' and 'Accelerate/decelerate tracking' settings that you can further adjust, allowing the flexibility to handle different kinds of movement.

Servo AF characteristics (still shooting)
| | | | |
| --- | --- | --- | --- |
| Case | Icon | Description | Examples of Shooting Situations |
| Case 1 | | Versatile multipurpose setting | Moving subjects in general |
| Case 2 | | Continue to track subjects, ignoring possible obstacles | Tennis, freestyle skiing |
| Case 3 | | Instantly focus on subjects suddenly entering AF points | Start of a cycling race, downhill skiing |
| Case 4 | | For subjects that accelerate or decelerate quickly | Soccer, rhythmic gymnastics, motorsports, basketball |
| Case A | | Tracking automatically adapts to subject movement | Moving subjects in general, especially in dynamic shooting situations |
Up to 60 AF calculations per second: Unpacking what it means
The EOS R3 is capable of up to 30 fps continuous shooting in electronic shutter mode. 60 AF calculations per second means that the camera can perform one more calculation between each shot even when shooting at 30 fps in addition to at each moment of shutter release. This makes tracking possible with better precision than before.
The EOS R3's AF system is a sophisticated one where multiple different mechanisms need to work in tandem, which means that calculations are complex. That makes the speed at which they can be performed even more amazing. It is this speed that enables the EOS R3 to achieve the world's fastest AF at 0.03 second*.
* Calculated based on the results of AF speed tests in accordance with CIPA guidelines (Results may vary depending on shooting conditions and lenses used). Relies on internal measurement method. Test conditions: • Brightness at time of distance measurement: EV12 (regular temperature, ISO 100) • Shooting mode: M • Lens in use: RF24-105mm f/4-7.1 IS STM.  When shooting stills with manual shutter button operation • AF mode: Single-point AF (central) • AF operation: One-shot AF

AF operation: Using Tracking On/Off
On the EOS R3, the subject detection-based tracking system is also significantly simpler to operate than before. However, if there are multiple detectable subjects or parts in the image frame, the camera may not necessarily focus on the intended subject. As the example scenarios below show, you may need to switch between tracking on and off more frequently—which you can do just by pressing one button.

In-action example: Basketball game
Most photographers will normally place the player who is their main subject in the centre of the frame.
If you use Flexible Zone AF, the AF will be done using the AF points within the zone. That way, you can be sure that the AF locks onto your intended player! As long as the zone covers the player's upper body, focus should stay on the player even without tracking.
However, when the player's movements and speed become more unpredictable, such as right before he tries for a goal, he may move outside the AF zone. For scenes like that, to ensure that the subject stays in focus, press the button to turn tracking on. By default, Tracking On/Off is assigned to the M-Fn 2 button. However, you can also assign its function to another button.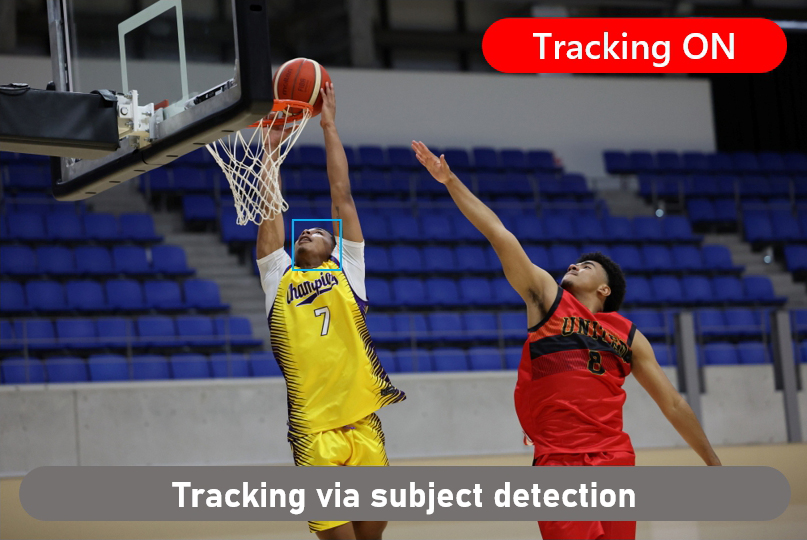 When you switch tracking to 'On', the EOS iTR AF X will track the subject across the entire image frame, even if he shifts outside the AF zone. All you need to do is concentrate on the framing and what the subject is doing.

AF operation: Using Eye Control AF
Eye Control AF is one of the features on the EOS R3 that have attracted a lot of attention. It is intended to aid AF acquisition, and used alongside other AF features such as subject detection and tracking.
A: EVF panel
B: Eye control sensor
C: Infrared LEDs for detecting user's eyes when wearing glasses
D: Infrared LEDs for detecting user's eyes (bare eyes)
How the Eye Control AF system detects gaze
The EVF contains an infrared LED, which projects infrared rays towards the eye. The reflection of these rays from the cornea is then analysed to calculate the position of your gaze.
Eye Control AF On/Off is assigned to the SET button by default, but can be custom-assigned to any of 11 other buttons including the M-Fn or Movie Shooting buttons. When it is switched on, the eye control pointer is displayed where you look. Half-pressing the shutter button will lock focus on the subject and start autoexposure, AF, and subject tracking.

Eye Control AF in action
1.
When Eye Control AF is switched on, the eye control pointer (two concentric circles) is displayed in the location of your gaze. When the subject is detected, a tracking frame will be displayed.
2.
By default, when the shutter button is half-pressed, the AF frame will shift to the location of the eye control pointer, and AE and AF will start. If a subject is detected, the blue AF frame will be displayed and this target subject will be tracked.
3.
If you shift your gaze somewhere else, the eye control pointer will move, too.
4.
When a subject is detected at or near the new eye control pointer position, the blue AF frame will shift again. When you fully press the shutter button, tracking continues as the shutter is released.
As the above example shows, Eye Control AF is effective when there are multiple subjects in the frame and you want to choose the subject to focus on. As long as subject detection and tracking are on and the eye control pointer is near your target subject, the AF frame should automatically move to the subject and track it.

Tip: To prevent accidental movement of the AF frame
If you are concerned about unintentionally moving the AF frame when you move your gaze, assign the 'Move AF point by eye control' action to a button such as AF-ON button. Instead of moving automatically when the eye control pointer shifts, the AF frame will not move until you press this button.

Canon EOS R3 - Eye Control AF and AF Tracking
Summing up: Seamless coordination for greater ease of use
In this article, we have explored the different still shooting AF features on the EOS R3 and shared how you can operate them. The AF system on the EOS R3 involves many different features, from its ability to conduct phase difference detection across almost the entire image frame, to the multiple AF area modes, to its deep learning-based subject detection and powerful tracking capabilities, and even Eye Control AF. It is amazing how the EOS R3 is able to automatically coordinate all these features seamlessly, isn't it? Besides elevating the capabilities of each feature, such coordination also means less fiddling around with settings and camera menus. And with that, you can concentrate better on the scene, the subject, and capturing the moment.

Know this: AF coverage with RF lenses (as at February 2022)
Approx. 100%×100% with subject detection
Approx. 90% (horizontal)×100% (vertical) with no subject detection
RF14-35mm f/4L IS USM
RF15-35mm f/2.8L IS USM
RF24-70mm f/2.8L IS USM
RF24-105mm f/4L IS USM
RF24-105mm f/4-7.1 IS STM
RF24-240mm f/4-6.3 IS USM
RF28-70mm f/2L USM
RF70-200mm f/2.8 L IS USM
RF70-200mm f/4L IS USM
RF100-400mm f/5.6-8 IS USM
RF100-500mm f/4.5-7.1 L IS USM
RF16mm f/2.8 STM
RF35mm f/1.8 Macro IS STM
RF50mm f/1.2L USM
RF50mm f/1.8 STM
RF85mm f/1.2L USM
RF85mm f/1.2L USM DS
RF85mm f/2 Macro IS STM
RF100mm f/2.8L Macro IS USM
RF400mm f/2.8L IS USM
RF400mm f/2.8L IS USM + Extender RF1.4x/ RF2x
RF600mm f/4L IS USM
RF600mm f/4L IS USM + Extender RF1.4x/ RF2x
RF800mm f/5.6L IS USM
RF800mm f/5.6L IS USM + Extender RF1.4x
Approx. 90% (horizontal)×100% (vertical)
RF100-500mm f/4.5-7.1L IS USM + Extender RF1.4x/ RF2x

Approx. 80%×80%
RF100-400mm f/5.6-8 IS USM + Extender RF1.4x RF600mm f/11 IS STM
RF800mm f/11 IS STM
RF800mm f/5.6L IS USM + Extender RF2x
RF1200mm f/8L IS USM + Extender RF1.4x

Approx. 40% (horizontal)×60% (vertical)
RF100-400mm f/5.6-8 IS USM + Extender RF2x
RF600mm f/11 IS STM + Extender RF1.4x/RF2x RF800mm f/11 IS STM + Extender RF1.4x/ RF2x
RF1200mm f/8L IS USM + Extender RF2x
AF coverage with EF lenses
Relatively recent EF lenses attached via a mount adapter: 
- Subject detection: approx.100% × 100% 
- No subject detection: approx. 90% (horizontal) × 100% (vertical)
Most other EF lenses:
- approx. 80% × 80%