More Fun Together
Spruce up your images with fun designs and layouts, then print long-lasting photos in different sizes with the SELPHY CP1500. Print directly from multiple devices such as smartphones, computers and even directly from your camera.
The simultaneous connections allow everyone to connect and start printing together. Add a QR code to your photos for a more interactive experience.
Multi-device connection for simultaneous print
Customisable overcoat designs and layouts
Long-lasting prints up to 100 years with water, oil and fingerprint resistance
The sleek and minimalistic design of the SELPHY CP1500 is suitable for all occasions, and it comes in both white and black to match your personality. Furthermore, with a footprint of 182.2mm width x 133mm depth x 57.6mm height and weighing only 850g, the SELPHY CP1500 is both lightweight and portable.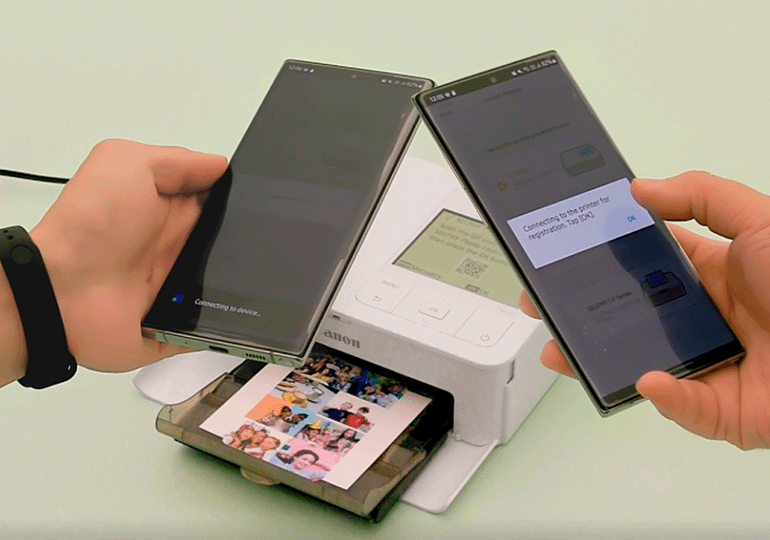 Seamless Prints Together
With simultaneous device connections* available, you can now invite your friends to print their own photos one after another without you doing it for them.
A quick scan of the QR code on the SELPHY CP1500 with the SELPHY Photo Layout app and you're connected!
*Unlimited devices via a router. Up to 8 devices via a direct connection.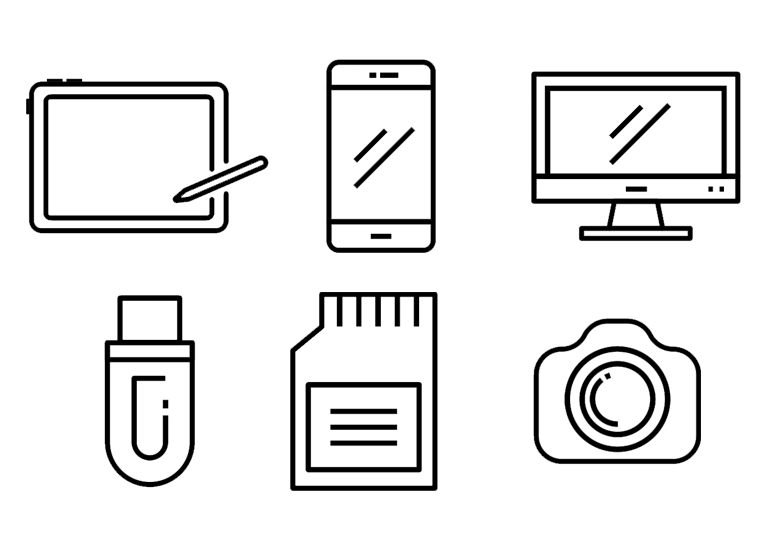 All-round Printing
Enjoy fuss-free printing  from your smart device, your computer and even directly from your camera.
The SELPHY CP1500 also allows direct printing using an SD card or USB Type-C drives.  You can also print directly from image.canon cloud service, Instagram and Google Photos.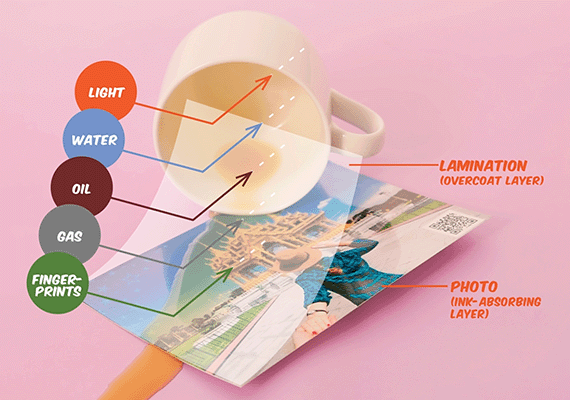 Prints that Last
Your images are protected with a unique laminate finish on each print, providing water, dirt, oil, and fingerprint resistance while preventing colours from bleeding and fading.
These prints can last up to 100 years when stored right!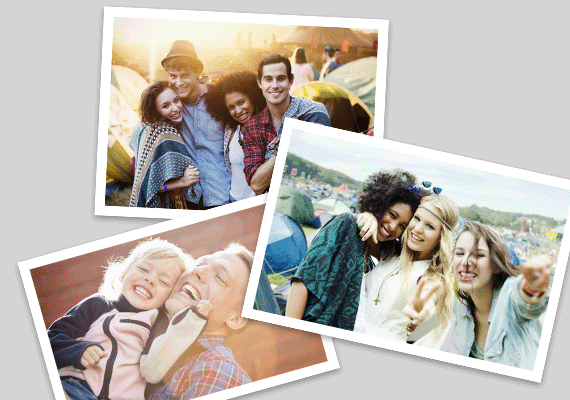 Images that Pop
Using dye-sublimation technology, the SELPHY CP1500 can recreate beautiful images with smooth colour tones and rich gradations. Coupled with the Auto-correction function, your images will look even better in prints!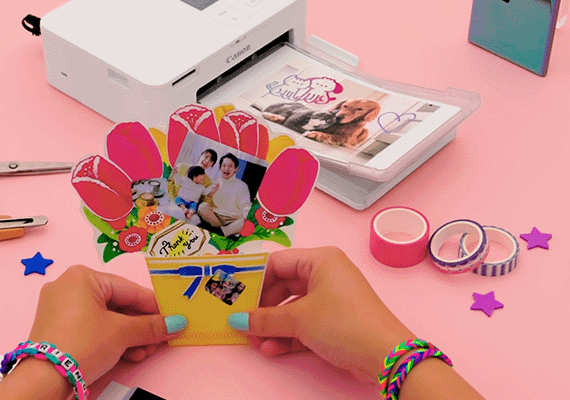 Fun Designs
Play with the multi-photo layouts and dress up your photos with the various stylishly designed pattern overcoats. Personalise your prints further by printing on different paper and label sizes.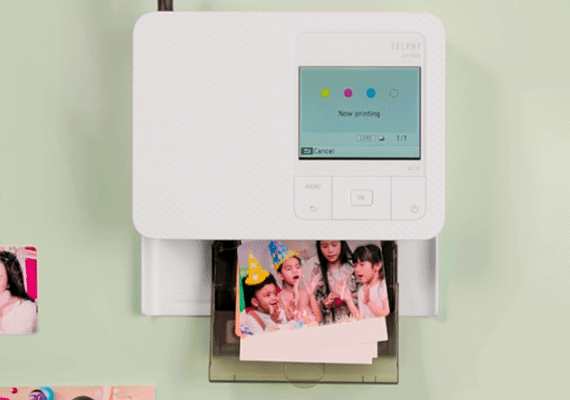 Quick Prints
Get your favourite card-size photo printed out in just 23 seconds!
Postcards and L-size prints take only 41 seconds and 23 seconds, respectively.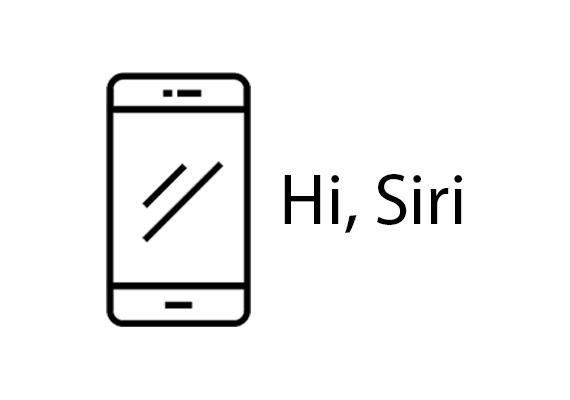 Print Assistant
By adding SELPHY to the list of shortcuts on your iOS phone, you can use Siri for voice-activated shortcuts to access SELPHY CP1500 for selected tasks or call up the instruction manual.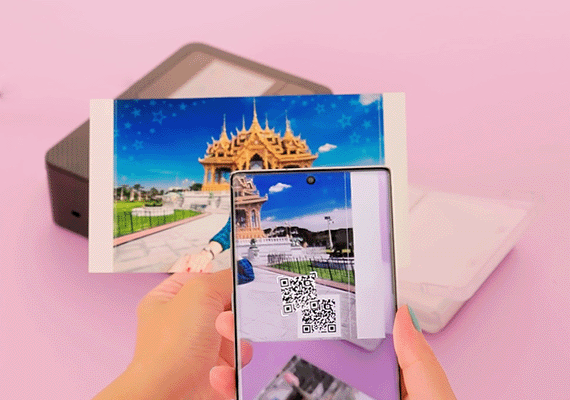 QR Codes
Expand the possibilities when you add a QR code to your prints. For example, you can now link the printed QR code to an online photo album, a Google location, an online video or a website.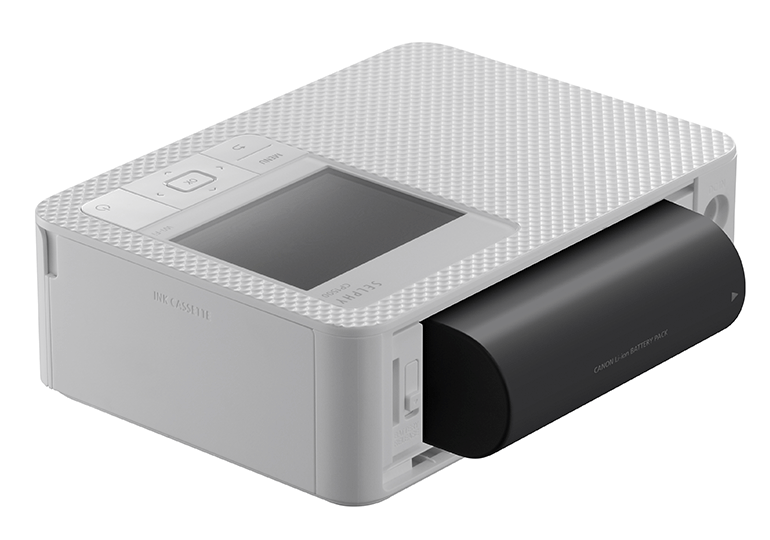 Portable Printing
Print on the go with the SELPHY CP1500 when you pair it with one of the optional battery packs. There's a battery indicator on the LCD screen and within the SELPHY Photo Layout App.
NB-CP2LH Battery Pack supports up to 54 postcard-size prints with one charge.

NB-CP2LI Battery Pack supports up to 70 postcard-size prints with one charge.
Printing Technology
Dye-sublimation thermal print method (with overcoating)
Maximum Printing Resolution
300 x 300 dpi
Gradation
256 shades per colour
Print Speed
Postcard size: Approx. 41 sec
Card size: Approx. 23 sec
Measured conditions : Room temperature, print speed measured from start of yellow printing to ejection of paper. With print finish set to "glossy".
Supported Paper Size / Printing Size
Postcard Size, borderless : 100.0 x 148.0 mm
Postcard Size, bordered: 91.3 x 121.7 mm
Card size, borderless, including full-size label: 54.0 x 86.0 mm
Card size, bordered, including full-size label: 49.9 x 66.6 mm
Card size (Label on 8-label sheet): 22.0 x 17.3 mm
Card size (Square labels): 50 x 50 mm
Supported Media Type
Dedicated paper
Postcard size (with an address field on reverse side): KP-36IP
Postcard size: KP-108IN, RP-54, RP-108, RP-1080V
Card size: KC-36IP
Card size Full-Sized Label: KC-18IF
Card size Eight Label: KC-18IL
Card size Square Label: KC-18IS
Dimension (LxDxH)
182.2 x 57.6 x 133.0 mm
Weight
Approx. 850g (printer only)
Paper Handling
(Maximum Number)
18 sheets
Print Longevity
100 Years Print. A special coating on each print that protects against splashes, spills and fading for up to 100 years when stored in an album.
Battery
Sold separately - Battery Pack NB-CP2LI / NB-CP2LH
Charging Time
Approx. 4.5 hours
Measured conditions : Room temperature, using NB-CP2LI
Connectivity
Wi-Fi
LCD Monitor
3.5" TFT LCD colour monitor (approx. 230,000 dots)
Memory Card Compatible
SD / SDHC / SDXC
Via adapter: miniSD / miniSDHC / microSD / microSDHC / microSDXC
Power Source
Compact Power AC Adapter CA-CP300 B
Battery Pack NB-CP2LI / NB-CP2LH (sold separately)
Port
USB - Type C (USB 2.0)
USB charging or powering up via USB not supported
Single Still Photo Resolution / Format
NA
Flash Light / Fill Light
NA
Focus
NA
Zoom
NA
ISO
NA
White Balance
NA
Exposure Adjustment
NA
Available Colours
Black & White
Valid for OCBC, HSBC and Standard Chartered Credit Cards.
A minimum $500 per eligible product qualifies for instalment payment plan.
Choose between 6- or 12-month instalment payments.
Instalment Payment Plan
Valid for OCBC, HSBC and Standard Chartered Credit Cards.

A minimum $500 per eligible product qualifies for instalment payment plan

Choose between 6- or 12-month instalment payments