Special Price
$99.00
Regular Price
$149.00
Compact Wireless All-In-One with LCD for Low-Cost Printing
This Ink Efficient printer is designed to give you an affordable wireless printing experience at low running cost of up to 400 pages.

Available in Black and Red
Print, Scan, Copy
ISO standard print speed (A4): 7.7ipm black / 4.4ipm colour
Hi-speed USB 2.0, Wireless, Wireless Pictbridge, Mopria, AirPrint, Wireless Direct
Recommended print volume: 50 - 200 pages
Terms & Conditions:
1. Promotion is valid for purchases made from 25 May - 4 June 2023.
2. Promotion is not valid with other promo codes (inclusive and not limited to First10, Birthday, and Privilege Purchase Codes)
cashback
Price Indicated is After Cashback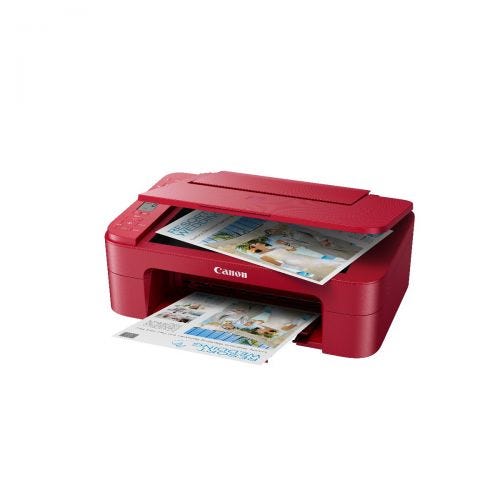 Low Cost Cartridges
Affordable ink cartridges for high quality printing.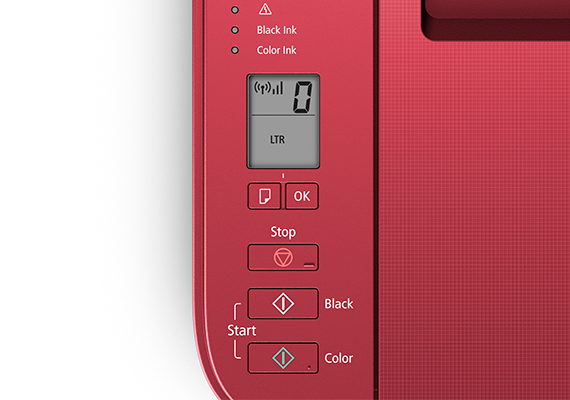 1.5" Segment LCD with Icon Display
Set copy size and number of copies easily. Intuitive icons on LCD display show printer and wireless connection status.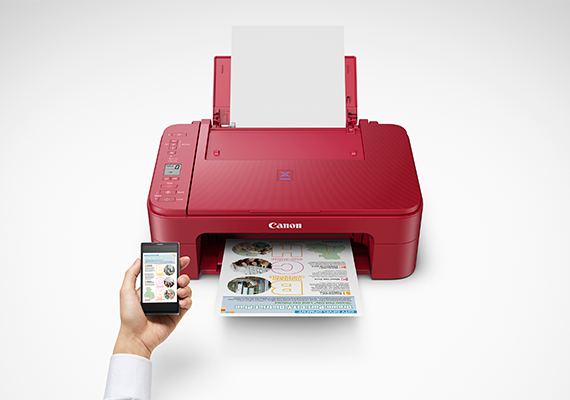 Mobile and Cloud Printing
Canon Print Inkjet/SELPHY and Easy-Photo Print Editor apps enable easy, fuss-free wireless printing from smartphones, mobile tablets and laptops.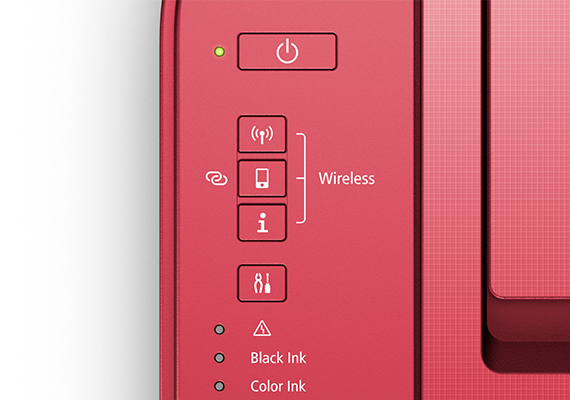 Auto Power ON/OFF
Auto Power ON detects a print command and will automatically switches the printer on and automatically switches off after a specific timing.
Ink droplets can be placed with a pitch of 1/4800 inch at minimum.
Document print speeds are the averages of ESAT (Word, Excel, PDF) in Office Category Test for the default simplex mode, ISO/IEC 24734.
Photo print speed is based on the default setting using ISO/JIS-SCID N2 on Photo Paper Plus Glossy II and does not take into account data processing time on host computer.
Print speed may vary depending on system configuration, interface, software, document complexity, print mode, page coverage, type of paper used etc.
Paper Type NOT supported for borderless printing are as follows: Envelope, High Resolution Paper, T-Shirt Transfer, Photo Stickers.
Paper types NOT supported for borderless printing are as follows: Envelope, High Resolution Paper, T-Shirt Transter.
TWAIN driver (ScanGear) is based on the TWAIN specification V1.9 and requires the Data Source Manager comes with the operating system.
Optical resolution scan is available, only when you use TWAIN Driver.
Optical resolution is a measure of maximum hardware sampling resolution, based on ISO 14473 standard.
The fastest speed in Hi-Speed USB on Windows PC. Transfer time to computer is not included.
1-11 in US, CND, LTN, BRA, TW and HK.
Please visit https://asia.canon to check OS compatibility and to download the latest driver updates.
The performance of the printer may be reduced under certain temperature and humidity conditions.
For the temperature and humidity condition of papers such as photo paper, refer to the paper's packaging or the supplied instructions.
Acoustic Noise is measured based on ISO7779 standard with default setting.
Copy: When copying ISO/JIS-SCID N2 (printed by inkjet printer) on A4 size plain paper using default settings.
Declared yield value in accordance with ISO/IEC 24711 (for A4 size) using ISO/IEC 24712 test file, and ISO/IEC 29102 (for 4x6" size) using ISO/IEX 29103 test file. Values obtained by continuous printing.
Estimated supplemental yield.
Disclaimer
You need to install ink tanks or ink cartridges of all colours whether you perform black and white printing or colour printing. If anyone of the ink tanks or ink cartridges is not installed, an error occurs and you cannot perform printing.
Depending on the paper or the print settings, colour ink may be consumed even when you print a document in black or perform printing in black and white. When any one of the colours of ink has run out, you need to replace the ink tank or ink cartridge.
When you use the Canon printer for the first time after you install the bundled ink tanks, the printer consumes a small amount of ink in the amount to enable printing by filling the nozzles of the Print Head with ink. For this reason, the number of sheets that can be printed with the first ink tanks is fewer than the succeeding ink tanks.
The printing costs described in the brochures or websites are based on the consumption data from not the first ink tank / ink cartridge but the succeeding ink tank / ink cartridge.
To keep printer's performance, Canon printer performs cleaning automatically according to its condition. When the printer performs cleaning, a small amount of ink is consumed. In this case, all colours of ink may be consumed.
[Cleaning function]
The cleaning function helps the printer to suck air bubbles or ink itself from the nozzle and thus prevents print quality degradation or nozzle clogging.
The repairing parts for printers will be available five years after production is discontinued. Depending on your model, we may ask you to replace it with a new one, or one with almost the same performance as a maintenance service. In this case, it may be that you cannot use supplies or accessories for your model or the compatible OS will be changed.
The warranty term for details, contact a Canon-authorized sales representative in the country or region you live in.
To obtain good printing quality, use up ink within six months after opening.
Regarding a solution to a problem caused by using non-genuine ink cartridges (including ones supplemented with non-genuine ink by making a hole in the cartridge or so), a fee will be charged even within the warranty term. Keep this in your mind when you use non-genuine ink.
If you use non-genuine ink cartridges (including ones supplemented with non-genuine ink by making a hole in the cartridge or so), they may have a negative effect on the performance of the printer or the printing quality may be reduced. In addition, though it is a rare case and does not present a safety hazard, it is reported that a print head will become heated or smoke will be emitted from it due to an ingredient not contained in genuine Canon ink. (Note that this does not apply to all non-genuine ink.)
The following functions are available only on printers that use genuine Canon ink for all colours and support these functions. For supported functions, see the product specifications section for each model.
Printing CREATIVE PARK PREMIUM content via My Image Garden, Easy-PhotoPrint+, or PIXMA Cloud Link
Using the following applications via PIXMA Cloud Link
- Scan to E-mail
- Attach to Webmail
- Scan to Office document
- Scan and Remote Print
- Saving scanned images to Dropbox, Google Drive, OneDrive, Evernote, OneNote
A printer with a fax function stores the following fax data in printer's memory:
- Faxes not printed out due to conditions such as ink running out.
- Faxes in the send queue.
If you disconnect the power cord, the date and time settings are reset and faxes stored in the printer's memory will be deleted. Before you disconnect the power cord, confirm that faxes you need to keep have already been printed or sent.
Depending on your terminal, such as a computer or a smartphone, or the operating system of your terminal, such as your computer or smartphone, the information or the message related to the estimated remaining capacity of the maintenance cartridge usage displayed on the screen of your terminal may be different from the information or message displayed on the operation panel of the printer. Also, the message for the estimated remaining capacity of the maintenance cartridge usage may be displayed at a different point in time. Canon recommends that you use the information and massage displayed on the operation panel of the printer as your reference.
Valid for OCBC, HSBC and Standard Chartered Credit Cards.
A minimum $500 per eligible product qualifies for instalment payment plan.
Choose between 6- or 12-month instalment payments.
<h4 class="modal-title">Instalment Payment Plan</h4> <p></p> <ul> <li><span>Valid for OCBC, HSBC and Standard Chartered Credit Cards.</span></li> <li><span> A minimum $500 per eligible product qualifies for instalment payment plan</span></li> <li><span>Choose between 6- or 12-month instalment payments</span></li> </ul>
Search engine powered by ElasticSuite