Announced on 14 October 2020, Canon's latest mirrorless camera for advanced beginners, the EOS M50 Mark II, updates the popular EOS M50 with its improved autofocus, ample video shooting capabilities that include live streaming to social media, and easier operability. Handy and reliable, it promises to make shooting beautiful images and video a breeze.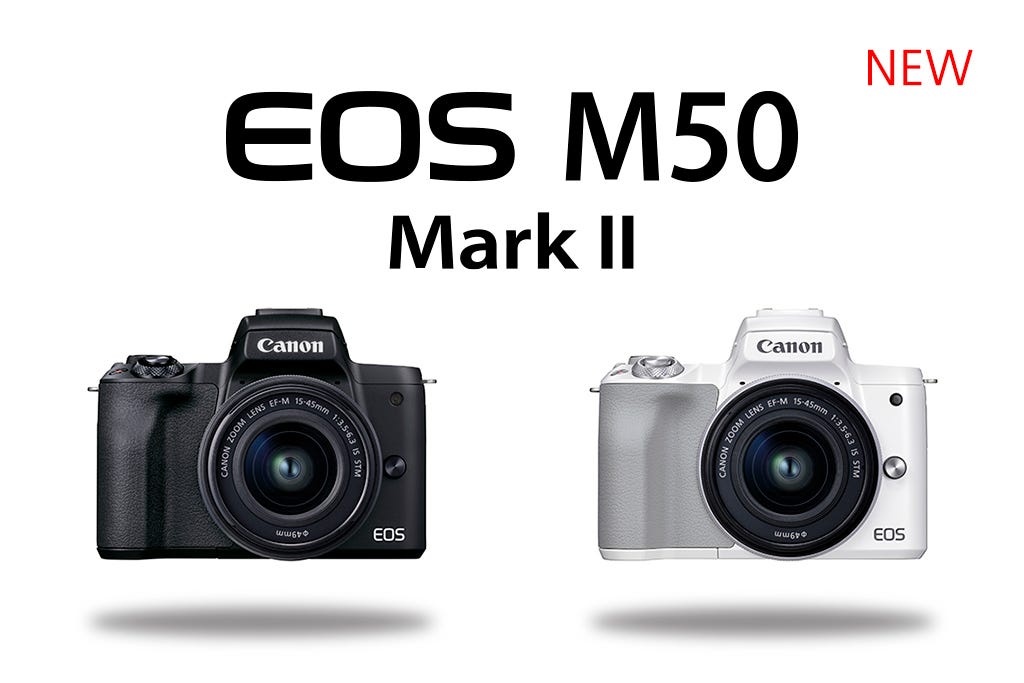 Known for providing excellent image quality, great autofocusing (AF), and ease of use in a handy, attractively priced package, the EOS M50 was one of the most popular cameras in Canon's EOS M lineup of compact and portable APS-C sensor mirrorless cameras.
As its successor, the EOS M50 Mark II promises even better autofocusing performance, video capabilities and functionality:
1. Better Eye Detection AF
2. Convenient video features
3. Social media-friendly video
4. Tap AF—a new way to shoot
5. Cloud compatibility with image.canon
It is also equipped with a 24.1-megapixel APS-C size CMOS image sensor, and DIGIC 8 image processor, as well as the 2.36 million dot built-in electronic viewfinder (EVF) and comfortable ergonomic grip that distinguished its predecessor.
#1: Nail focus on people's eyes from further away
Eye Detection AF, improved
When it comes to photographing people, getting the eyes sharp is crucial. Out of focus eyes can make facial expressions look very different, or even make a shot unusable.
Just like the EOS M50, the EOS M50 Mark II uses the Dual Pixel CMOS AF system, allowing swift and precise subject detection and focusing anywhere within an impressive 88% × 100% (horizontally × vertically) of the image frame. Its upgraded Eye Detection AF capabilities offer faster, more precise detection of a person's pupils even when they are further away. This means a higher chance of snapping that successful OOTD shot or holiday portrait, right down to the twinkle in your subject's eyes.
EOS M50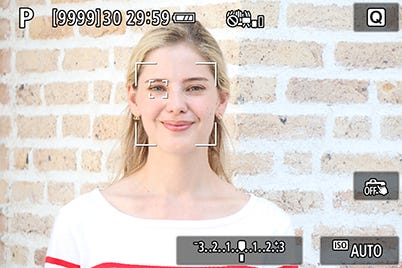 On the EOS M50, you needed to be quite close to human subjects—enough to fill the frame from the chest up—for their eyes to be detected.
EOS M50 Mark II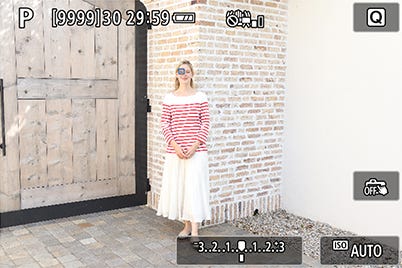 On the EOS M50 Mark II, the eyes are detected even when the subject's entire body is in the frame. The faster detection speed means that focus stays locked on their eyes even as they walk towards you.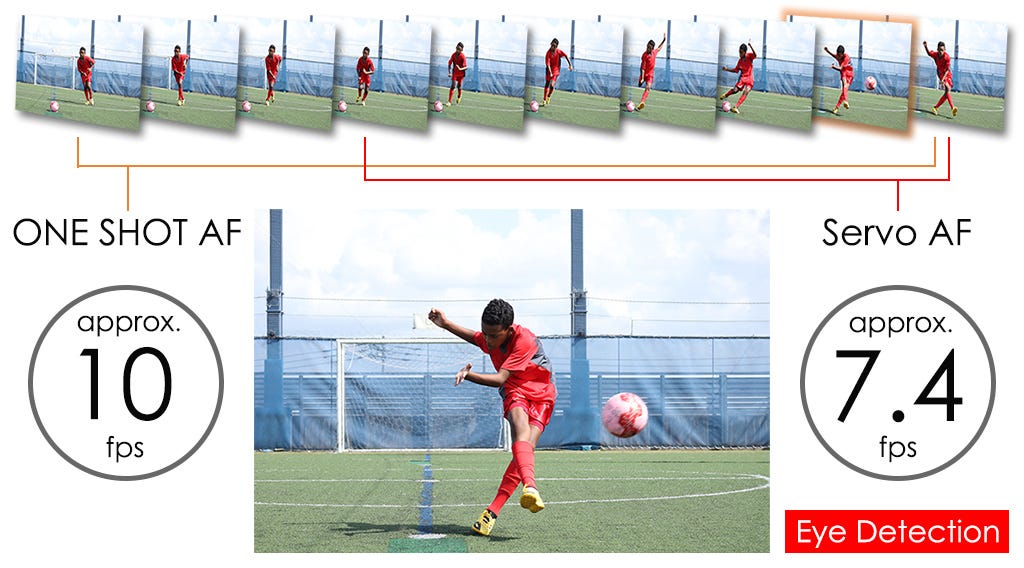 Action portraits? No problem!
If you are photographing people in motion, taking continuous shots in Servo AF mode gives you the highest chance of success. On the EOS M50 Mark II, Eye Detection AF is supported in Servo AF mode. This means you can continuously shoot up to 7.4 frames per second (fps) with the eyes in sharp focus, enough to get decent images of energetic children or even athletes in action.
Other new features to note:
- For even more precise focusing with subject tracking, Spot AF, which offers a smaller AF frame than 1-point AF, is now available in Servo AF mode.
- The faster AF frame display provides better visualisation of subject tracking.
- The Scene Intelligent Auto mode offers the AI Focus mode, which automatically switches between the One Shot and Servo AF modes.
#2: Take nice, creative videos with no sweat
Ample modes and convenient features to help you express your vision
Like the EOS M50, the EOS M50 Mark II offers a variety of video shooting modes that allow greater freedom of expression: high definition 4K, time-lapse movies, High Frame Rate HD movies that can be used for slow motion footage, and so on. It also keeps convenient features like Movie Digital IS, which performs five-axis image stabilisation, and the Auto Level, which keeps the video straight as you record it. Using a lens with a built-in image stabilizer (optical IS) enhances the image stabilisation effect, ensuring that even footage shot handheld remains stable.
Let the camera keep focus for you
The EOS M50 Mark II adds support for Eye Detection AF to 4K video shooting, ensuring that the focus sticks onto the eyes of your subject, just like it would for still photography.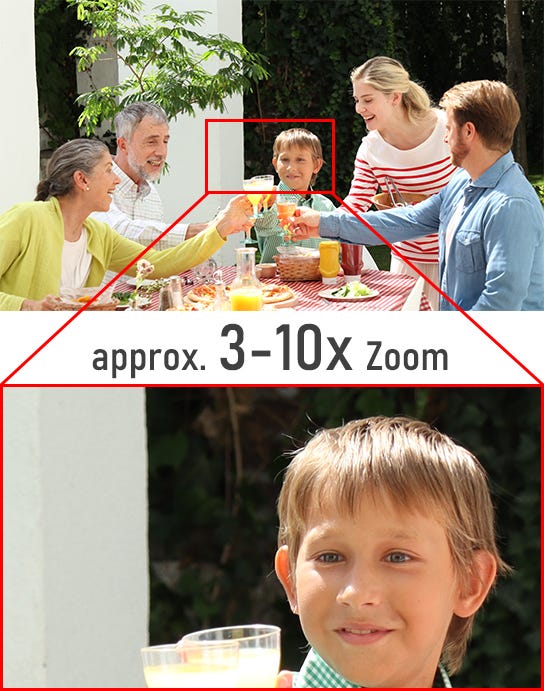 *Image is for visualisation purposes.
Easier close ups
For those times where close ups tell the story better, use the new Movie Digital Zoom function. Available when shooting in Full HD mode, the function digitally magnifies the area in the centre of the screen by three to ten times, bringing you even closer than what your lens allows.
One-touch tap recording
For even more convenience, the EOS M50 Mark II includes the new Touch REC function, where one tap on an onscreen icon is all you need to start or stop recording. The movie self-timer ensures that the camera doesn't capture your finger after you have tapped the screen.

Key video recording modes (all in MP4 format)
4K UHD (cropped) (3840×2160): 23.98 / 25.00 fps (Contrast AF)
FHD (no crop) (1920×1080): 59.94 / 29.97 / 23.98 / 50.00 / 25.00 fps (Dual Pixel CMOS AF)
HD (no crop) (1280×720): 59.94 / 50.00 fps (Dual Pixel CMOS AF)
High Frame Rate HD movies:  119.88 / 100.00 fps 
4K UHD time-lapse movies: 23.98 / 25.00 fps, FHD 23.98 / 25.00 fps
Check out some cool ways to make your videos more interesting here and here!
New to videography? We have some articles to get you started in:
Videography: Tips & Tutorials
Read the full article in Canon SNAPSHOT