The second-generation EOS R system cameras, the EOS R5 and EOS R6, share many of the same eye-popping features such as the improved Dual Pixel CMOS AF II system that uses deep learning technology; high-speed continuous shooting at up to 20 fps, and up to 8 shutter speed stops' in-body image stabilisation. With so many similarities, how do you decide which one to buy? Here, we explore the major differences that might matter to you.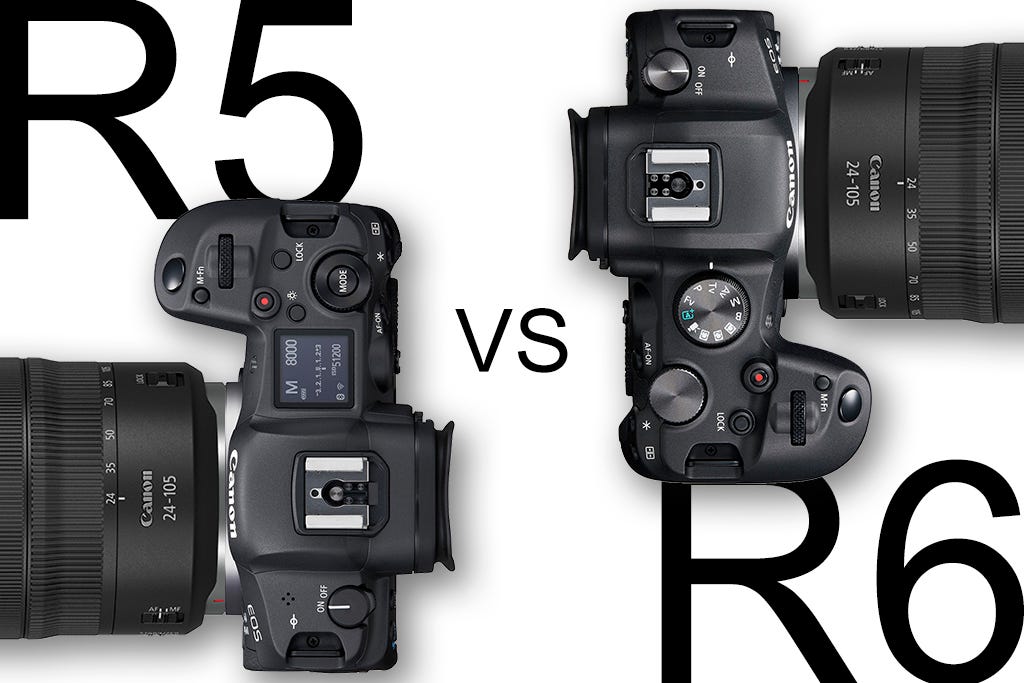 5 important differences
1. Image resolution: 45MP vs 20.1MP
2. Video: 8K vs 4K
3. EVF
4. Dials and controls
5. Size and weight
1. Image resolution: 45MP versus 20.1MP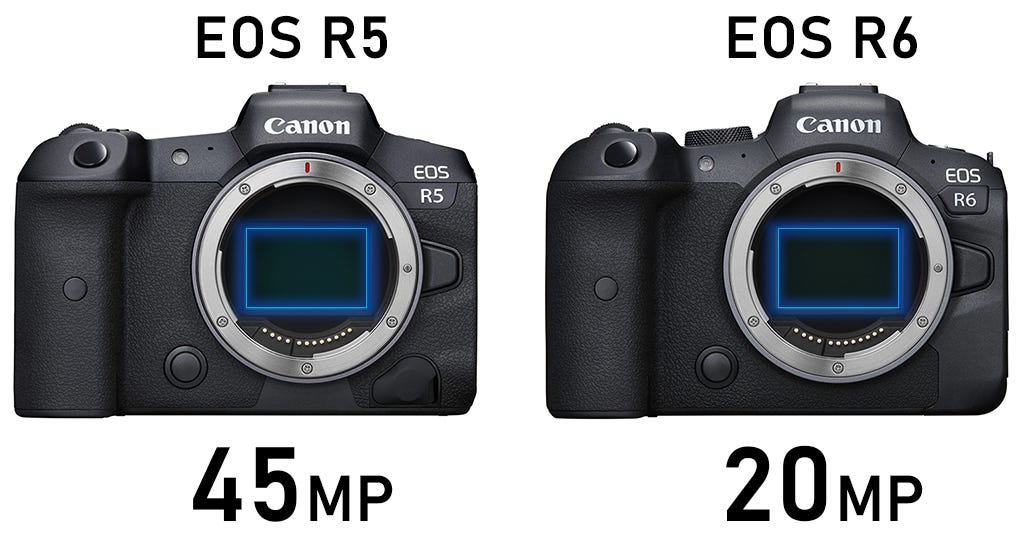 The EOS R5 uses a newly developed 45-megapixel image sensor. Meanwhile, the EOS R6 features a 20.1-megapixel image sensor similar to that found on Canon's flagship professional DSLR camera, the EOS-1D X Mark III, optimised for the EOS R system.
Both cameras provide impeccable image quality, but the huge difference in the number of megapixels makes a difference in how much you can crop before image quality starts to deteriorate, and also to how large you can print.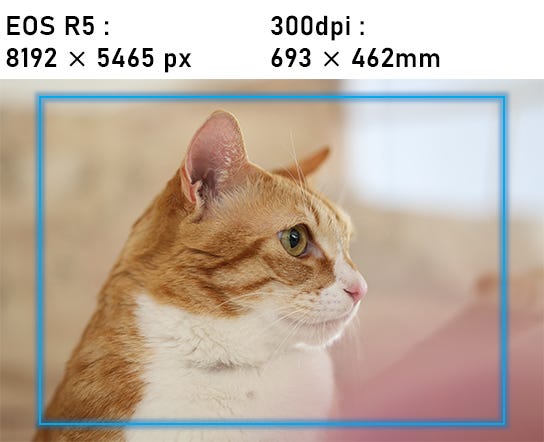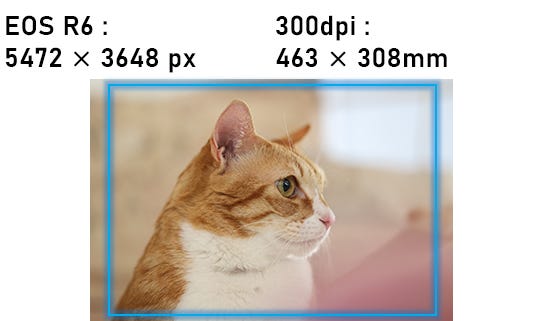 300 dpi printing: Up to A3 for the EOS R6, up to A2 for the EOS R5
At 300 dpi, the most common resolution in commercial printing, the EOS R6 can print images up to 463mm × 308mm, more than sufficient for A3-size posters.
Meanwhile, the EOS R5, with more than twice the number of megapixels, can print images up to 693mm × 462mm, enough for A2 prints. You could also crop images by up to 50% and have sufficient resolution left over for an A3-size print.

EOS R5: Larger resolution even in 1.6x crop mode
The 1.6x crop mode on both cameras uses part of the image sensor to achieve 1.6x more reach on any given lens (equivalent to the angle of view on an APS-C camera). The megapixel difference also affects the size of files shot in this mode. 
On the EOS R6, these files are around 7.7 megapixels, which is sufficient for A4 printing and online publication.
On the EOS R5, these files are around 17.3 megapixels—still sufficient for an A3 print. 

Other notables:
- DPRAW
The EOS R5 supports Dual Pixel RAW recording, which comes with new in-camera processing features such as Portrait Relighting and Background Clarity. This expands the possibilities you can do in post-processing.
- Low light
The EOS R6 has slightly better low light capabilities: It can focus down to EV-6.5 (versus EV-6.0 on the EOS R5), and a maximum native ISO speed of 102,400 (versus 51,200 on the EOS R5).
2. Video: 8K versus 4K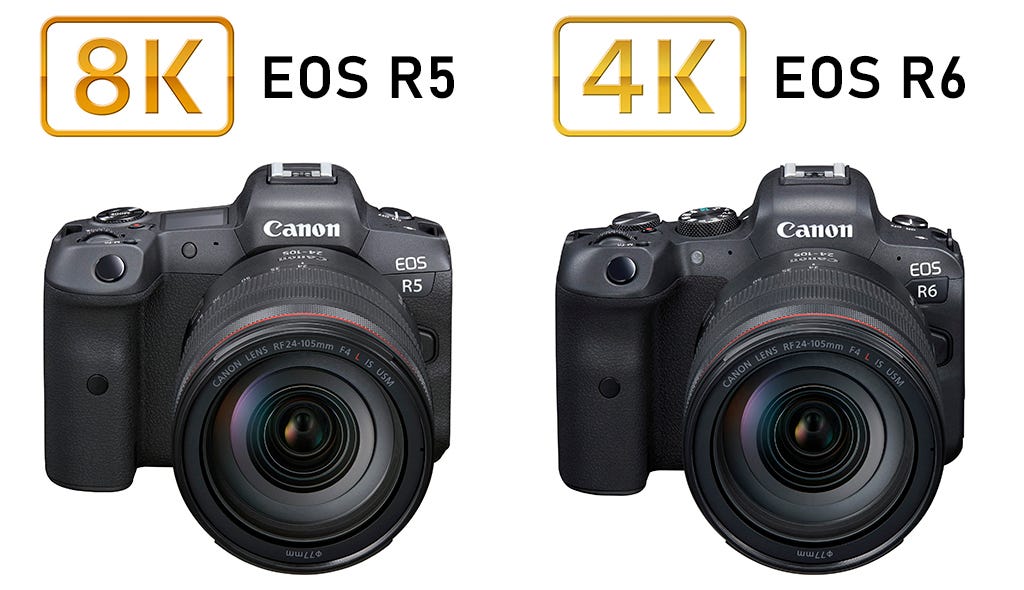 Many of the features that make the EOS R5 and EOS R6 such powerful stills cameras also benefit video, such as the 8-stop In-Body Image Stabilizer and Dual Pixel CMOS AF II autofocus system, which is supported across all resolutions and frame rates on both cameras. Besides professional HDR recording profiles like Canon Log and HDR PQ, which offer more flexibility in post-production, both cameras also offer convenient extra functions such as zebra displays, focus peaking, and the Manual Focus Guide.
The main difference between both cameras is the maximum video resolution.
EOS R5: Ahead of the times with 8K
The EOS R5 is the first 8K video capable interchangeable lens camera in the world (other than professional cinema cameras) to support 8K shooting. 8K resolution unlocks a whole new realm of realism in video, offering life-like detail and dimensionality in a different way from the true-to-life contrast of HDR movies. It also offers the following advantages in production:
- More post-production editing options (e.g. crop to produce 4K movies with sliding/parallax effects).
- 8K 30p RAW recording lets you extract 35.4-megapixel RAW still images from each frame, equivalent to RAW continuous shooting at 30 fps.
- Ability to produce oversampled 4K (4K HQ), which offers higher quality than conventional 4K.
However, keep in mind that the hardware requirements to edit 8K are much higher than for 4K.

EOS R6: Cropless 4K 60p
Using 94% of its image sensor width, the EOS R6 shoots cropless 4K UHD at up to 60p/50p—the first full-frame camera in its class to be able to do so. It is also capable of higher-quality 4K footage via 5.1K oversampling.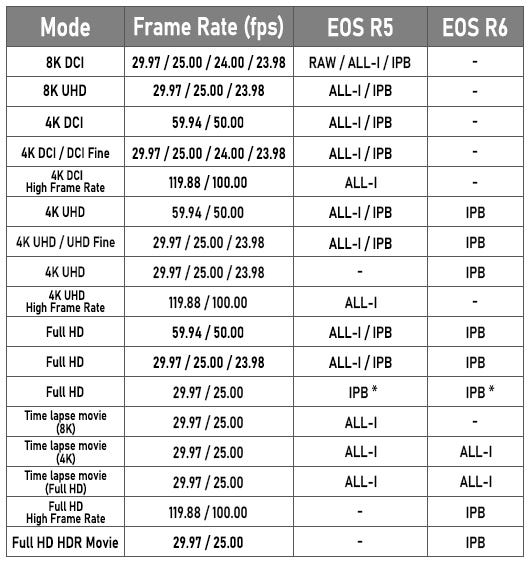 * IPB (compressed)
The following internal recording formats are supported on both:
- MP4 H.264/HEVC (YCbCr 4:2:0/ 8-bit/ BT.709)
- MP4 H.265/HEVC HDR PQ (YCbCr 4:2:2/ 10-bit/ BT.2020)
- MP4 H.265/HEVC Canon-Log (YCbCr 4:2:2/ 10-bit/ BT.709 or BT.2020)
- EOS R5 only: 8K DCI RAW (12-bit)

Know this: The dual card slots are not the same!
EOS R5: CFexpress card + SD card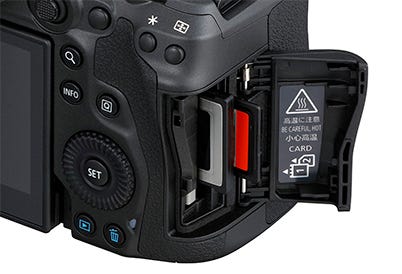 Recording 8K movies produces a lot of data. This requires the fast writing speed of CFexpress cards to keep up (compatibility information here), so be prepared to invest in one. The dual card slots of the EOS R5 take one CFexpress (Type B) card and one SD card.

EOS R6: Dual SD card slots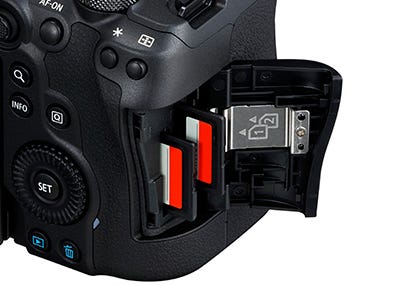 The dual card slots on the EOS R6 both take SD cards, so you can continue using your existing cards.

Other notables:
- Built-in microphone
 While the EOS R5 features a monaural microphone, the EOS R6 features a stereo microphone. This is because the EOS R5 is expected to be used with a more sophisticated setup that includes an external stereo microphone. 
- 4K recording options
The EOS R5 offers 4K DCI and 4K 120p (high frame rate) video recording.
3. EVF:  5.76 million dots versus 3.69 million dots
The EOS R5 features a 5.76 million dot OLED EVF and a maximum refresh rate of 120 fps, offering a viewing experience that is comparable to that of an optical viewfinder. Meanwhile, the EOS R6's 3.69 million dot OLED EVF has the same clarity as the EOS R, but offers a refresh rate of up to 120 fps, double that on the latter.
The higher refresh rates on both the EOS R5 and EOS R6 promise a smooth, seamless view even of fast-moving subjects.
4. Dials and controls: Mode dial vs mode button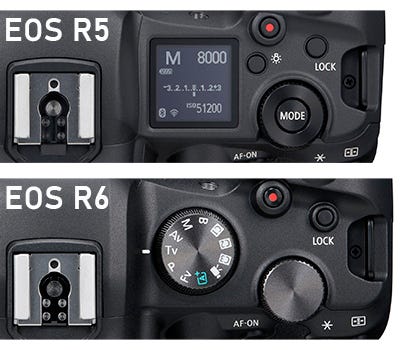 Similar to the EOS R, the EOS R5 has a mode button and top LCD panel. The top LCD panel displays the shooting mode and exposure information and is convenient to check when the camera is mounted on a tripod. Reducing the number of dials gives it slightly better dust and drip resistance, a similar concept employed on the pro-spec EOS-1D X Mark III. 
Meanwhile, the EOS R6 employs the traditional mode dial, which some users might find easier to use for quick mode changes.
Other than these differences, existing users of intermediate and advanced EOS cameras should find the buttons, dials, and menu layout of both cameras generally familiar. 

Other notables:
- Wireless connectivity
The EOS R5 has built-in support for both the 5GHz and 2.4GHz wireless LAN bands, and also offers extended network and connectivity options including wireless linked shooting capability via the Wireless File Transmitter WFT-R10 (sold separately). Meanwhile, the EOS R6 supports only the 2.4GHz wireless LAN band, and is not compatible with the WFT-R10.
- Battery Grip BG-R10 can be used on both cameras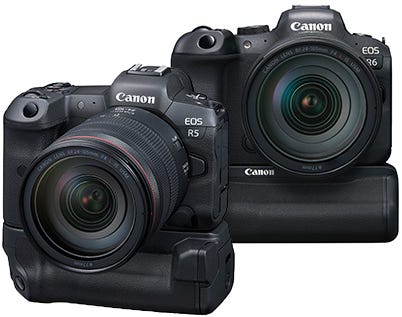 To shoot vertical images more comfortably and/or increase the number of images you can take before running out of battery, use the Battery Grip BG-R10 (sold separately) with either camera model.

Also see:
3 Add-Ons to Power-Up Your EOS R5 and EOS R6
5. Size and build: Magnesium alloy versus polycarbonate exterior
The EOS R5 and EOS R6 are very similar in size:
- EOS R5: approx. 138.5 × 97.5 × 88.0mm (Width × Height × Depth)
- EOS R6: approx. 138.4 × 97.5 × 88.4mm (Width × Height × Depth)
However, at approximately 598g (body only), the EOS R6 is around 52g lighter than the EOS R5 (approximately 650g, body only), mainly because of the materials used to build each body.
Both the EOS R5 and the EOS R6 have a dust and drip-resistant design. As with the EOS R, on both cameras, the shutter curtain can be configured to close when the lens is removed, protecting the image sensor from dust.
The EOS R5 has a magnesium alloy body which is very robust and has excellent heat dissipation and magnetic shielding qualities, making it extremely reliable even for heavy professional use. It is equivalent to the EOS 5D series.
Meanwhile, the build of the EOS R6 is similar to the EOS 6D Mark II and the EOS RP, with a strong and lightweight polycarbonate exterior and a rigid magnesium alloy chassis. Polycarbonate is soft enough to ensure that the internal mechanisms are cushioned from impact if the camera were dropped. Like the EOS R5, it has a metal tripod socket for better stability and durability.

Other notables: 
- Shutter durability
The shutter life of the EOS R5 is rated up to 500,000 cycles, compared to 300,000 cycles on the EOS R6. This might be significant if you do a lot of burst shooting.
In summary: Which to choose?
Ultimately, both cameras have the same excellent core shooting capabilities, including:
 - Up to 20 fps continuous shooting
- The new DIGIC X image sensor
- The upgraded Dual Pixel CMOS AF II system
- The new EOS iTR AF X subject tracking system that draws from deep learning technology; and
- Up to 8 stops' in-body image stabilisation.
Both cameras are also packed with ample video features to suit a professional post-production workflow.
The ultimate decision will depend on your preferences, shooting style, and budget. While the EOS R5 offers higher megapixels and 8K shooting among other advantages, the slightly more affordable EOS R6 is a powerhouse in its own right, offering the performance of the EOS-1D X Mark III professional flagship DSLR in a smaller, lighter, and more affordable full-frame mirrorless body.
Whichever camera you eventually choose, it will not disappoint.
Find out how the EOS R5 changed the way a landscape photographer shoots in:
Why the EOS R5 is My Ideal Camera for Landscape Photography
This article was originally published in Canon SNAPSHOT