On 8 February 2023, Canon announced the EOS R50, a new entry APS-C mirrorless camera that is also the lightest camera in the EOS R series to date. While it boasts core capabilities similar to other recent EOS R system cameras, the camera provides simpler controls and new modes that cater to users who want to enjoy the camera's outstanding capabilities right away, even without getting familiar with technicalities. These include features that promise to make shooting high-quality vlogs more convenient than before.
Create effortlessly: A powerful camera that's easy to operate
As one of the latest cameras in the second generation of Canon's well-acclaimed EOS R mirrorless camera system, the EOS R50 is endowed with excellent basic capabilities, such as high-quality images, fast and precise autofocus, and intelligent subject detection based on deep learning technology. But it is also simple to use, with minimal dials and buttons and a touchscreen that you can use to navigate and control the camera, just like a smartphone.
A variety of new and enhanced automatic functions ensure that you get the best settings for the scene, with room to express your creative flair. Some functions even help you learn to shoot and create better, for those times when you want decisions to be 100% your own.
Need to know more? We distil seven things that you should know about this handy new camera.
1. It's small, light, and easy to carry around
And it comes in white, too!

Weighing just around 375g including batteries and an SD card (or 376g if you get the white version), the EOS R50 is currently the lightest camera in the EOS R system. When combined with the RF-S18-45mm f/4.5-6.3 IS STM kit lens (approx. 130g), it is just around 505g (white: 506g). For visualisation purposes, that's around the same weight as a 500ml drink in a plastic bottle. Perfect for travel, walking around, and certainly for vlogging on a gimbal!
Know this: The white version comes with a matching silver RF-S18-45mm f/4.5-6.3 IS STM kit lens.
2. It has many features designed to make vlogging and livestreaming convenient

Instant high-quality footage, fewer takes, less editing
Besides its small size and weight, which makes it convenient to bring with you wherever you want to show your viewers, the EOS R50 includes many other features designed to make vlogging easy.
Got an unexpected vlog idea, or something you just have to film to show your viewers? The EOS R50 is great to have on hand, for reasons more than just its compact, lightweight portability.

Movie for close-up demonstrations
The name says it all: the Movie for Close-up Demos mode is designed for close-up demonstrations, whether you are introducing a product or teaching your viewers a skill. Place a product in front of you and the focus automatically switches to it instead of staying on you; take it away and the focus immediately returns to your face. It's now possible to do the entire demonstration in one seamless take without having to cover your face!

Image stabilisation; Movie IS mode with Auto Level
Shooting handheld? The EOS R50 is equipped with Movie Digital IS*, which uses internal gyro sensors to detect 5 axes of camera movement and then digitally corrects the wobbling that results. When the rear monitor is rotated to selfie mode, the "Movie IS: Enhanced" mode optimises stabilisation for wide-angle shooting, where unwanted camera movement tends to become more obvious at the edges.
For situations where it's hard to keep the horizon level, the camera has an Auto Level function**, which automatically straightens horizontally tilted footage. That's one less thing to correct in post-production, so you can get your vlogs online sooner!
* The Movie IS function is linked with the angle of view setting; when set to the widest angle, Movie IS is set to "Off".
When using Movie Digital IS, the shooting range becomes narrower. The image also becomes enlarged, resulting in a less defined image.
** When set to "Auto level: Enable", "IS mode" is turned off (The two cannot be used simultaneously), and the shooting range also becomes narrower. The mode cannot be used when shooting vertically.

Vertical video support; aspect markers for easy cropping
Shooting vertically oriented videos for social media? The rotation information is added to the video so that they play in the correct orientation when viewed on another device*. If you're planning to crop your video to other aspect ratios, remember to turn on the aspect marker function. It provides the appropriate markings, helping you to ensure that important elements are always perfectly in frame!
Selectable aspect ratios:
1:1, 4:5, 5:4, 9:16, 4:3, 13:9, 14:9, 1.375:1, 1.66:1, 1.75:1, 1.85:1, 1.90:1, 2.35:1, 2.39:1

Plug-and-play livestreaming through just one USB-C cable
Make fuller use of the amazing imaging capabilities of your EOS R50 and lenses by using them in your livestreams or remote meetings. The EOS R50 supports the USB Video Class (UVC) and USB Audio Class (UAC) protocols, which allow the transfer of high-quality video and audio to your computer through just one USB-C cable. It's plug-and-play, so no prior driver installation is required.

High-quality 4K videos oversampled from 6K
With 24.2 megapixels, the EOS R50 is also capable of producing high-quality cropless 4K 30p video oversampled from 6K worth of data. Oversampling means more information to reduce artefacts and other issues, so no matter where you are in terms of vlogging experience and skill, at least the image quality will look pristine and professional.
For those to whom specifications like colour depth matter: the EOS R50 shoots HDR PQ video at 10-bit YCbCr 4:2:2, in addition to the usual 8-bit YCbCr 4:2:0. This means beautiful high dynamic range footage with smoother colour gradations, ready for viewing straight out of the camera on an HDR-compatible display.

High-resolution video, light video files
The EOS R50 supports transcoding, which makes high-resolution 4K and Full HD video files even lighter. This allows them to be easily transferred to your smartphone (see point 7) and uploaded to social media.
3. Its image sensor is 3x the size of a typical smartphone
The key to high-quality images and videos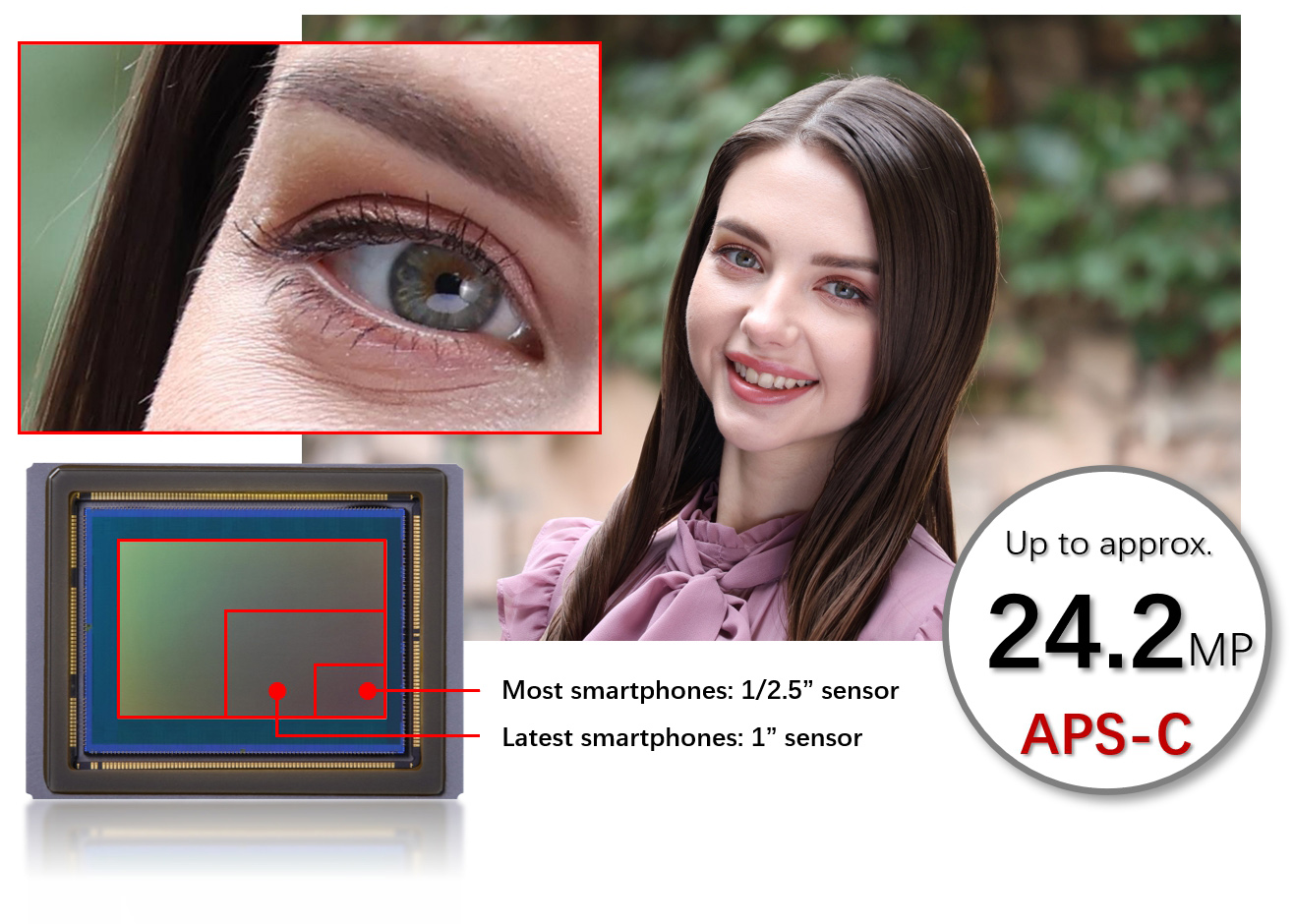 When image quality is concerned, (image sensor) size does matter. After all, the superior image quality of a dedicated camera is a big reason why so many photographers and video creators prefer to use one over a smartphone!
Firstly, a larger image sensor captures more light information within a given time, resulting in cleaner, clearer quality images shot in low light, and well-defined details even when the image is enlarged. A larger sensor also contributes to a shallower depth of field, which creates lovely, natural-looking bokeh (shallow focus blurring) where subjects "pop" against their background.
Although it's half the size of the full-frame image sensor found on professional cameras, the APS-C image sensor on the EOS R50 is around three times larger than the 1-inch type sensor on the latest smartphones. This ensures that photos and videos have better image quality than what you can obtain from a smartphone, right from the very start.
4. It has very intelligent subject detection and autofocusing systems

Leave the focusing to the camera and concentrate on connecting with your audience
Ensuring sharp focus is crucial for both photography and videography. Images and footage that are too far out of focus are nearly impossible to fix, and even mildly out-of-focus images can be cumbersome to repair. Thankfully, the EOS R50 is equipped with the fast and reliable Dual Pixel CMOS AF II autofocus system, aided by the EOS iTR AF X subject detection and tracking system whose algorithm was developed through deep learning. The two systems work together to quickly and accurately identify subjects in the frame, lock focus on them, and then follow them when they move.

EOS iTR AF X: Subject detection and tracking based on deep learning technology
The EOS R50 can recognise and track people, animals (dogs, cats, and birds), and vehicles (cars and motorcycles) even when only part of them is visible. This is because its EOS iTR AF X subject detection and tracking algorithm was trained using deep learning technology. Not just any camera can do that: the EOS R50 and other second-generation EOS R system cameras can because they are equipped with the DIGIC X image processing engine, which incorporates special circuitry capable of processing deep learning algorithms.

Subjects that can be detected by the EOS R50
Mode

Subject

Parts detected

People
People
Eyes/ Face/ Head/ Torso
Animal
Dogs, cats, birds
Eyes/ Face/ Torso
Vehicle
Motorsports
(Cars, motorcycles)
Vehicle body/ Helmet
Auto
All the above
All the above

Dual Pixel CMOS AF II: Dense detection points that cover up to 100% of the image
Under the Dual Pixel CMOS AF II system, each of the 24.2 million pixels on the image sensor can perform both imaging and phase difference detection. That's like having a very dense network of tiny feelers, working in groups to help achieve focus on details just about anywhere in the image frame.
In Whole Area AF mode, when a subject is detected, the pixels work together in up to 651 finely divided zones. They coordinate with the subject tracking system to follow the subject over 100% of the image frame.

Subject detection (auto) mode in action
In scenes where multiple subjects are detected, such as the person and dog in this clip, the Subject Detection (Auto) mode uses contextual information such as the composition to identify and focus on the main subject. If you want to override the selected subject, all you need to do is tap the touchscreen to select your desired subject, or touch and drag the AF frame to where you want while looking through the viewfinder.
5. A fast continuous shooting speed that helps you to freeze quick action sequences

Up to 15 frames per second with the electronic shutter
We've talked a lot about the EOS R50's vlogging-friendly features, but let's not forget that it's also a very capable stills camera! For instance, in electronic shutter mode, it can take continuous shots at up to 15 frames per second while it tracks the subject and constantly auto-adjusts the exposure. That's sufficient for most scenes where you need to take photos of moving subjects, such as a pet that won't stay still or a toddler having way too much fun.
* The actual continuous shooting speed depends on various factors such as battery remaining charge, temperature, built-in Wi-Fi ('On' or 'Off'), flicker reduction, shutter speed, aperture value, type of lens, etc. For more information, please refer to the user manual.
6. Still shooting: Automatic and creative features that also help you to learn

Start creating immediately with smartphone app-like interfaces
For photography enthusiasts getting their first camera, the jump from a smartphone to a "real" camera can be exciting yet intimidating. You know you won't be disappointed by the image quality, but all those dials, buttons, and technical knowledge just to take a picture?!
Fret not: the EOS R50 is designed to be easy to navigate, even if you are unfamiliar with all those photography terms and keen to start getting creative right away. It comes with many new and enhanced automatic modes that help you choose the best settings, or even perform various forms of bracketing and merging (too technical? Think of it as "magic"!) to create the images you desire. They come with intuitive smartphone app-like interfaces that you can navigate with the touchscreen. All you need to do next is just push the shutter button.

Scene Intelligent Auto: Advanced A+ mode
A new addition to the Scene Intelligent Auto (A+) mode, where the camera automatically detects the scene and sets the best settings, the Advanced A+ mode takes multiple continuous shots, each with slightly different settings, and merges them to achieve a final effect that can't be achieved with just one shot. Here's where it works.
Scenes with significant bright-dark differences
Creates an HDR image that retains more detail in the darkest and brightest areas by merging images shot with different exposure settings (exposure bracketing).
Macro photography
Creates a final image that is sharper from back to front by merging shots taken with different focus positions (focus bracketing and depth compositing).
Night scenery/low light scenes
Achieves brighter, clearer images by merging multiple exposure bracketed images.

Creative Bracket
The Creative Bracket function works in tandem with the existing Creative Assist feature, which lets users change shoot settings and create the images they want through an intuitive, smartphone app-like interface. It will delight users who love experimenting with filters and tweaking their image's colours.
For each shot that you take, the function automatically generates multiple suggestions that have alternative brightness, tone, and/or colour settings, and you can choose the version that you like. More options to express your mood, plus it will probably give you more ideas!
Pro tip: When you choose the suggestion that you like, you can see the settings that were applied. Use them to replicate the look in Creative Assist, or as a reference to improve your photo-taking and editing skills!

Panning mode with Subject Blur Guide display
This feature is an enhancement to the existing Special Scene – Panning mode. Panning is a technique where users move the camera in the same direction as a subject's movement, creating a dynamic image where the subject looks sharp but its surroundings have intentional motion blur. It is more challenging than it seems!
In the Panning mode, the camera automatically optimises the AF settings and adjusts image stabilisation settings to increase the chances of success. The Subject Blur Guide display, debuting on the EOS R50, takes it even further—it uses lines and colours to visually indicate the deviation between the subject's path of movement and that of the camera. Simply move your camera according to the reference line, and you're on the path to panning success.

High-resolution panorama shots
The Panorama Shot mode is a relatively recent addition to the Special Scene modes. It takes continuous shots at around 5 frames per second as you pan the camera, and then automatically stitches the shots to generate a high-resolution panorama image. Effective for sprawling landscapes, tall buildings, and other huge subjects that are hard to capture in one normal frame, it's another way to make the most of the camera's 24.2-megapixel image sensor!

Other creative/useful functions
- HDR PQ shooting
- Focus bracketing + in-camera depth composition
- Digital teleconverter
- Creative filters
etc.
7. Transfer photo and video files to your smartphone while on the go
The EOS R50 supports Bluetooth and a 2.4GHz Wi-Fi connection, which can be used to wirelessly transfer photo and video files to a paired smartphone via the Canon Camera Connect smartphone app. From there, you can edit your content to taste or upload them to social media. Alternatively, transfer your files via a USB-C cable. 

Canon Camera Connect Ver.3
Tip: Camera Connect also supports Remote Live View Shooting, where you can preview shots with your phone while using it to control the camera.
8. Other notable camera features
Multi-Function Shoe
The EOS R50 is equipped with the new Multi-Function Shoe, which has a digital terminal that allows it to be used with compatible audio input accessories, in addition to flashes. It means that conventional 5-pin hotshoe accessories won't work, so if you have them, you'll need the Multi-Function Shoe Adapter AD-E1.
Vari-angle LCD monitor
The rear LCD monitor flips out and rotates, providing extra flexibility when shooting selfies, high-angle shots, low-angle shots, or from other awkward angles.
Built-in flash
The retractable built-in flash has a guide number of approx. 6 (at ISO 100; in metres). Find out how you can make the most of it in In Focus: Built-in Flash Techniques.
USB charging/power supply
Need to charge your camera while on the go? You can do so while leaving your LP-E17 battery inside the camera via the USB Power Adapter PD-E1. This also acts as a power supply when the camera is turned on.