The Cinema EOS camera lineup has a brand-new member—the EOS R5 C. As its name suggests, the EOS R5 C is a hybrid cinema camera that follows the design blueprint of the EOS R5, but adds enhanced video features, including unlimited 8K RAW video recording, that cater to professional video production. Here's a brief look at its key features. We also spoke to a professional videographer, Sean Seah of Vulcanworx Productions, who tried out a pre-production model firsthand, and he shares his experience.

An internal active cooling system that realises virtually unlimited 8K 60p* RAW video recording
*With external power options, sold separately
The current EOS R5 is an excellent full-frame mirrorless camera built for stills photography with its powerful 20 fps speed and high-resolution 45-megapixel CMOS sensor. It is also known for its video capabilities, especially the support for 8K RAW video shooting. To better cater to the increasing demand for 8K video production, Canon addressed the EOS R5's 8K recording time limits in a brand-new video-first hybrid camera model: the EOS R5 C.
The EOS R5 C shares some of the same basic specifications as the EOS R5, such as:
- Full-frame CMOS image sensor with up to 45 effective megapixels
- DIGIC X image processor
- The RF lens mount and its benefits
In addition to the above, it adds a cooling fan system located at the rear of the camera near the LCD monitor, which limits the overheating that occurs when shooting high-resolution video such as 8K video. This allows it to record 8K RAW videos practically nonstop, with optional external power (sold separately).
Note: Weight indicated is for camera body only, and does not include batteries and memory card.
With the addition of the cooling fan system, the EOS R5 C is around 23mm deeper and weighs 30g more than the EOS R5, but these differences are hardly noticeable when the camera is held in your palm. It also retains the same level of dust and drip resistance as the EOS C70 and EOS C300 Mark II. Fellow EOS R5 and EOS R6 users would probably not notice any major differences when they use the EOS R5 C. With its compact, lightweight body that few existing 8K-capable cinema cameras can match, the EOS R5 C significantly contributes to improving 8K production mobility.
Other than the vents for air outlet, the EOS R5 C looks almost the same as the EOS R5. The outstanding differences include the red shutter button, which functions as the REC button for video shooting, and the signature Cinema EOS red 'C' emblem. A tally lamp has been added above the 'Canon' logo to show that recording is in progress.
Sean says:
"I shot videos in various situations daily with the camera for a full week. These included a wedding event, some scenery shots, and a short documentary film. I mainly shot with just the camera, rigged with a monitor. Depending on the situation, my rig also included an external battery, timecode generator, and external microphone.
Sean with the EOS R5 C rigged to an external monitor and microphone.
Compact and portable, the EOS R5 C allows better versatility in a greater variety of shooting situations.
The camera's small, unobtrusive form factor despite its virtually unlimited 8K 50p/60p shooting capabilities allowed me to produce very high-quality videos and visuals in many locations. The longest continuous take in 8K that I did was 2.5 hours for my short documentary, "The Guitar Doctor". I shot in RAW LT format at 50p while powered with an external battery. I did not experience any overheating issues.
Those who require the mobility of running only on internal batteries may want to note that the native battery life is much shorter, at around 40 minutes*. Therefore, do plan your shoots and pack extra batteries for your intended shoot duration.
*Based on CFexpress card recording (two-slot recording: Off), use of a RF50mm f/1.2 USM lens, and use of LCD monitor (Brightness: normal).
A dual system that allows you to boot into either Photo or Video
The most unique feature of the EOS R5 C is its dual system, which offers two different UIs (user interface) for stills photography and video. Turning the power switch to "PHOTO" engages the same UI as the EOS R5, and it presents almost the same features and performance for your photography needs. Turning the power switch to "VIDEO" engages the Cinema EOS UI, which looks like the EOS C70 UI, offering the Cinema EOS menu.
Some videographers may prefer to display the gain instead of ISO speed, or the shutter speed in terms of shutter angle, and the EOS R5 C provides that option, just like other cinema cameras. Videographers who are currently using a Cinema EOS camera will find switching over easy with the familiar menus and operational features.

Like a two-in-one: An excellent stills camera and a video powerhouse, all in one body
In this sense, the EOS R5 C is like having two exceptional cameras in one body—an outstanding stills photography camera, and a powerful cinema camera. Powering on to Photo mode takes only around 0.4 seconds, powering on to Video mode takes only around 1.2 seconds, and you only need to flick one switch to get from one function to the other.
Sean says:
I use the EOS C70 as well as other Cinema EOS systems, and seeing the familiar cinema camera menu in Video mode made navigating the EOS R5 C a breeze for me.
Filming the sunset with the EOS R5 C—also a perfect photo opportunity!
Up to 8K RAW 60p internal recording, with a variety of recording formats
The EOS R5 C comes with a large assortment of recording formats for a cinema camera. For RAW format recording, it uses the efficient Cinema RAW Light format also utilised by other Cinema EOS cameras, but features three newly developed modes that users can choose from according to their shooting needs:
- High-quality (RAW HQ)
- Standard quality (RAW ST)
- Light recording (RAW LT)
While the EOS R5 could shoot 8K RAW only up to 30p/25p, the EOS R5 C can shoot up to 60p/50p in RAW LT mode. In addition to RAW and MP4 in 8K, it also supports 4K recording in XF-AVC format, which is based on the MXF broadcasting standard.

Main formats supported by EOS R5 C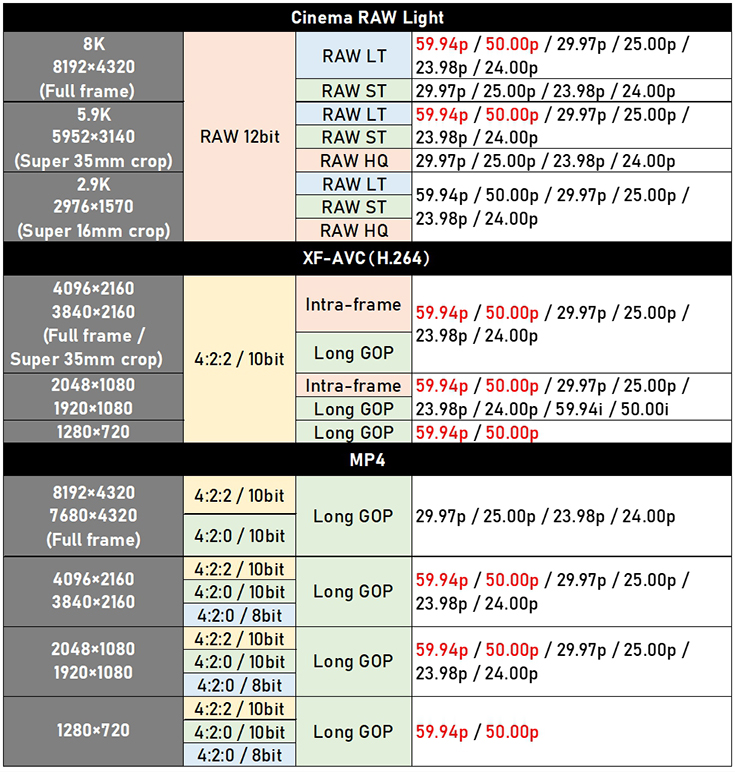 *Frame rates in red: An external power supply is recommended when shooting in full-frame or Super 35mm crop mode.
Even if you decide to record in 4K, the camera's 8K capability means that it is possible to use the full 8K pixel readout to create oversampled 4K files, which will carry better image quality with less moire, false colours, artifacts and noise. 4K high frame rate recording of up to 120p is also supported up to a colour and bit depth of 4:2:2 10-bit (Long GOP/Intra-frame), with simultaneous audio capture in a separate WAV file.
The EOS R5 C is equipped with a dual card slot, which takes one CFexpress card and one SD card. Recording in high bit rate formats such as 8K RAW will require a CFexpress card, but recording to an SD card is possible for lighter RAW files such as RAW LT files shot in Super 35mmm crop mode at 24p.
HDMI RAW output is supported, and recording in Apple ProRes RAW is possible up to 8K 30p 10-bit.
The EOS R5 C also supports simultaneous proxy recording to the SD card for better post-production efficiency.
Sean says: 
When you record in RAW + XF-AVC format with an external microphone plugged into the 3.5mm microphone jack, 4-channel recording is possible (2 external channels and 2 channels from the internal microphone). If your external microphone is an active microphone and runs out of battery when plugged in, no sound will be recorded—which can be disastrous for events and weddings. With 4-channel recording, you will at least have the internal microphones as backup in two assigned channels.
Canon Log modes and HDR gamma modes
The EOS R5 C supports Canon Log 3 internally. Canon Log 2 can be applied to files shot in Cinema RAW Light format when post-production is conducted using Canon's Cinema RAW Development tool. This enables consistent colour grading results when the EOS R5 C is used alongside other Canon cameras, including other Cinema EOS cameras.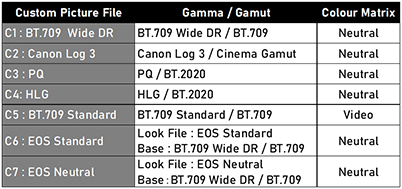 For HDR shooting, in addition to the widely used HDR PQ (Perceptual Quantization) format, the EOS R5 C also supports Hybrid Log-Gamma (HLG).
Autofocusing and image stabilisation
AF in Video mode & Photo mode
In Video mode, as the EOS R5 C uses Cinema EOS firmware, its AF capabilities are slightly different from the EOS R5. While it also features the high-precision Dual Pixel CMOS AF system, the AF coverage is around 80% x 80% of the image area. The Dual Pixel Focus Guide is also available during manual focusing. Detecting and tracking human subjects is convenient as there is support for Eye/Head Detection AF.
In Photo mode, Dual Pixel CMOS AF II is engaged, and the AF coverage is around 100% x 100% of the image area during Auto AF selection. EOS iTR AF X in photo mode supports eye and head detection, as well as Animal Detection AF, which detects dogs, cats, and birds.

Image stabilisation
Instead of the image sensor-shift type In-Body IS that featured on the EOS R5, the EOS R5 C is equipped with electronic 5-axis image stabilisation, which is generally preferred by videographers and also employed effectively in cinema cameras like the EOS C70. When combined with a lens with a built-in Optical Image Stabilizer (Optical IS), the two systems coordinate to perform Combination IS for more effective image stabilisation.
Sean says: 
Having Eye Detection AF is new to cinema cameras, and it offered a marked improvement in AF experience. I was pleasantly surprised to find that the Eye Detection AF worked even when shooting at a high ISO speed of 12,800.
Filming the short film, "The Guitar Doctor", on the EOS R5 C.
Click here to view the documentary on YouTube
Multi-function shoe: With digital interface to support audio accessories
The multi-function accessory shoe on the EOS R5 C is the same as the one on the EOS R3, and features a digital terminal that supports audio accessories, in addition to the 5 pins found on conventional hot shoes. When the Stereo Microphone DM-E1D is attached, cableless high-quality audio recording is possible. The new shoe enables power supply from the camera to the attached accessories, allowing smooth audio recording without having to worry about the microphone running out of battery.
The multi-function shoe can also take a third-party XLR microphone adapter, which allows the cableless attachment of XLR microphones and audio equipment for high-quality audio recording.
Interfaces: Includes timecode input/output terminal to aid multi-camera setups
In addition to the HDMI Out (Type D), MIC, headphone, remote control (N3-type), and USB Type-C terminals also found on the EOS R5, the EOS R5 C also has a Timecode terminal, which is useful for synchronisation between cameras in a multi-camera setup. As the Timecode terminal has a depth of approximately 9mm, users are advised to use a cable with a release sleeve of the appropriate size.
The inclusion of the cooling system has led to an offset in the position of the Vari-angle monitor, which also has the effect of ensuring that the latter won't get in the way of any cables attached.
Sean says:
Without a timecode terminal, the other option would be to feed the timecode device via the 3.5mm port and at the expense of one audio channel. The EOS R5 C's dedicated timecode terminal means that we no longer have to sacrifice that audio channel. This approach also saves a step in post-production.
A timecode device connected
Photo mode: Similar capabilities as the EOS R5
In Photo mode, the EOS R5 C uses EOS R system firmware and generally offers the same functionality and performance as the EOS R5. These include:
- Up to 45-megapixel high-resolution still images
- Up to 20 fps high-speed continuous shooting 
- Dual Pixel CMOS AF II system with up to 100% AF coverage
- Human subject detection (eyes, face, head, body) via EOS iTR AF X
- Animal Detection AF (eyes, head, full body of cats, dogs, and birds) via deep learning technology
- Vehicle Detection AF via deep learning technology (equivalent to Firmware Version 1.5.0 on the EOS R5)
Sean says:
The fact that the EOS R5 C is also a very capable stills camera is very convenient for situations where I need a good stills camera to photograph productions, or to take product photos for my videos.
Original article published in Canon SNAPSHOT
Pre-order the EOS R5 C now and enjoy up to $1,200 worth of freebies.