Deep Dive into the Insect World: Explore Macro Photography
In simple terms, macro photography is extreme close-up photography of very small objects or living organisms. Turning it around and looking at it from a technical point of view, macro photography refers to shooting at a minimum magnification ratio of 1:1. The ratio indicates the subject's size – that, when depicted on the camera's sensor, is the actual size at that scale.
Here's another way of understanding it: at 1:1, the subject would appear life-sized when printed out as an image the same size as the digital sensor (for Canon EOS R full-frame mirrorless cameras, that would be 36mm x 24mm).
The ability to capture the subject life-sized onto the sensor allows the photographer to maximise all the camera sensor pixels and fully capture every intricate detail. It's perfect for photographing tiny things that are typically difficult for the human eye to see without the help of additional technology – specifically, the world of insects.
Adventuring with Lenz Lim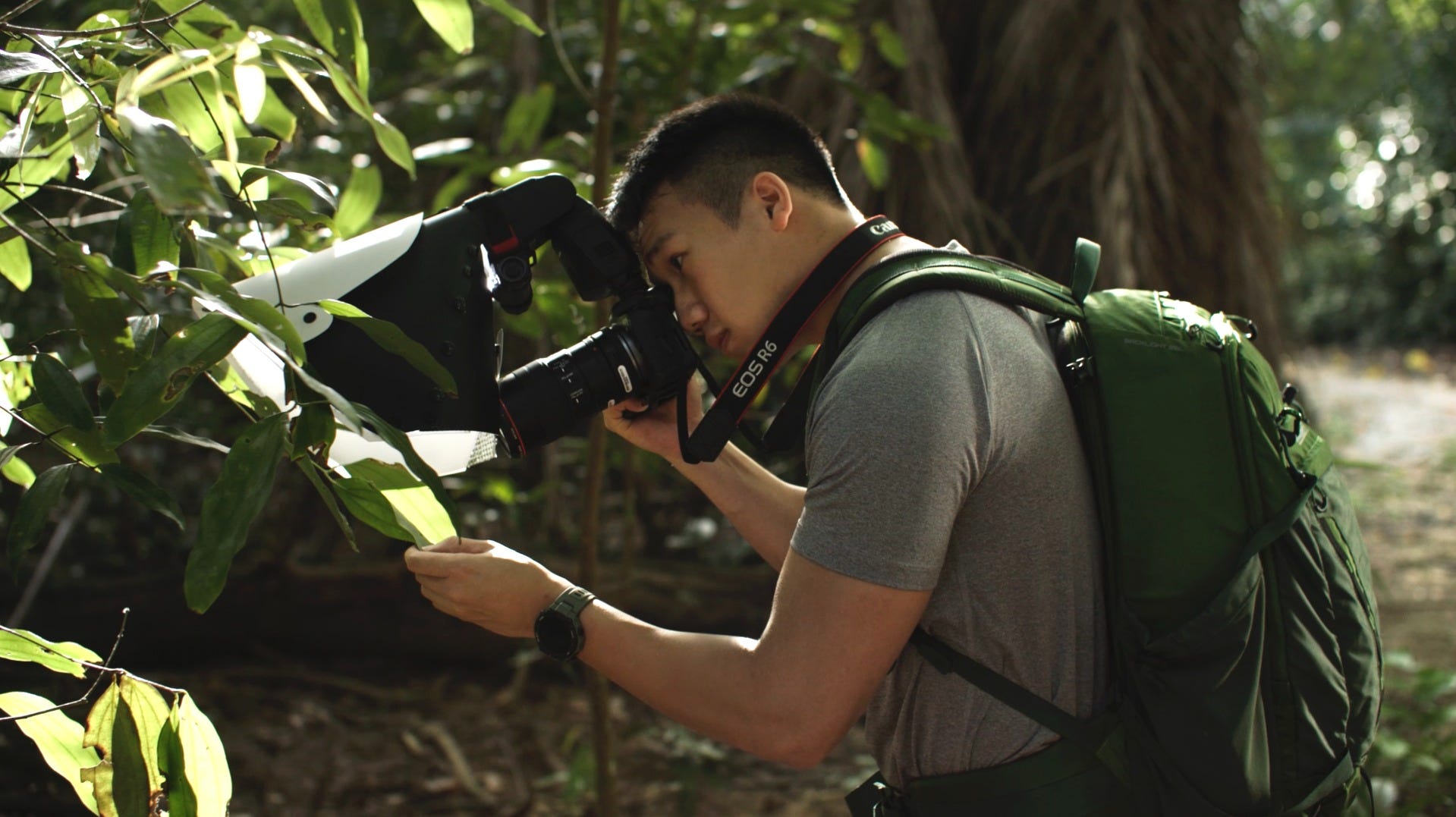 I wanted to capture the beauty around me.
The insect world is unexplored territory to the average person. But not to Lenz Lim, who regularly gets up close and personal with these miniature creatures.
His fascination with insects, or as he describes them, arthropods, led him to specialise in macro photography and occasionally, bird photography. He started with photographing garden variety spiders in his backyard – now, his passion for discovery is the driving force behind his work.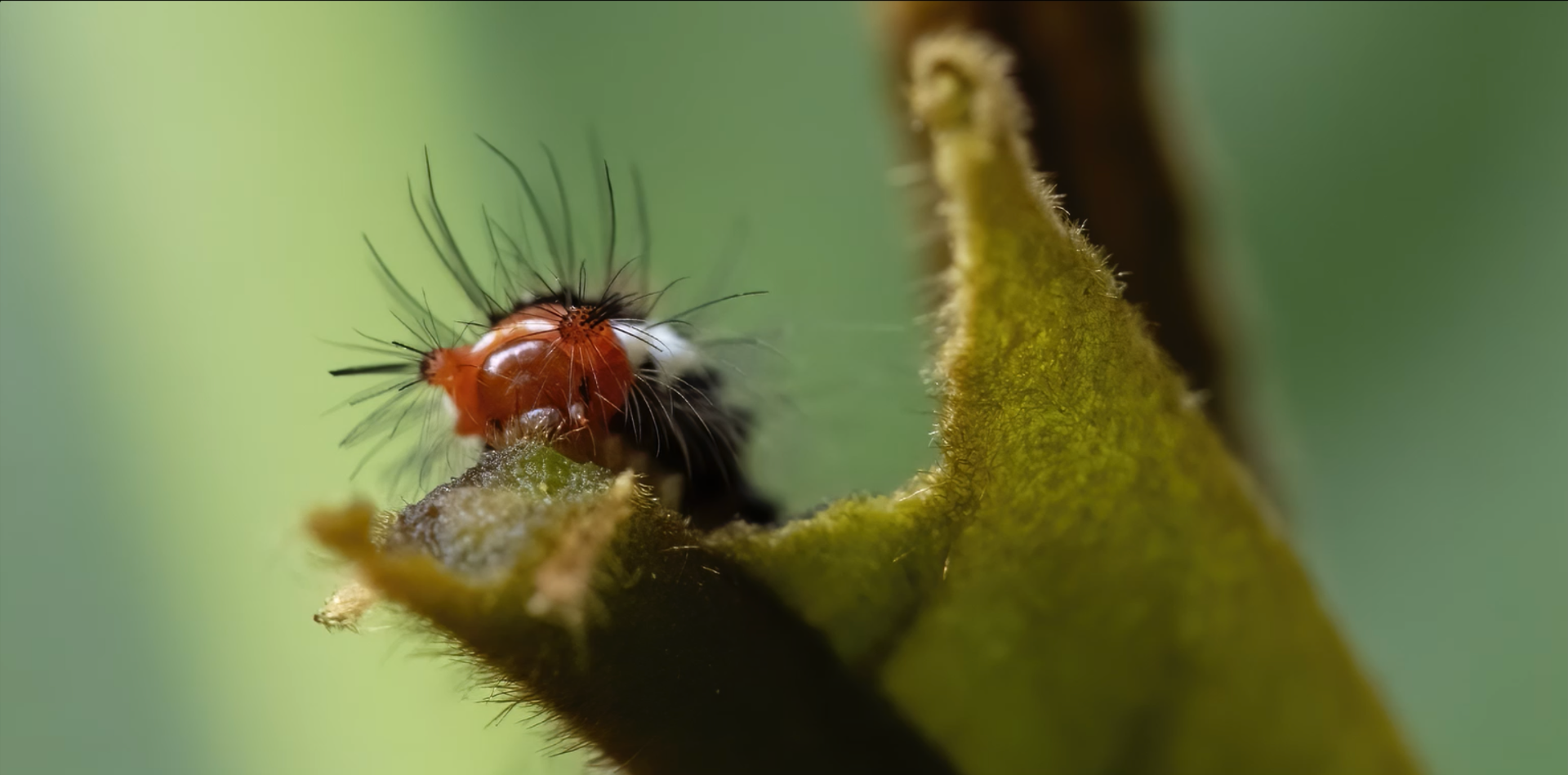 These insects are important and often overlooked in the ecosystem. Photo by Lenz Lim.
Start with the Basics
Camera settings are the fundamental and most essential component of any photography genre, even more so for macro photography that's widely considered one of the most technical genres to master.
If you are new to macro photography, Lenz recommends you start exploring these camera settings by using them as a basic template, and experiment as you skill up.
A little background context: Lenz uses an external flash for nearly all his shoots. There are multiple benefits to flash usage in macro photography:
Allows for a smaller aperture, deeper depth of field, and better framing.
Provides enough light to capture sharper photos, even when handheld.
It's important to note that the settings listed below are tailored to Lenz's photography style.
| | | |
| --- | --- | --- |
| Exposure Triangle | Setting / Value | Reason |
| ISO | 100 | External flash is used. Keep ISO at the lowest possible value. |
| Shutter speed | 1/125 – 1/250 | Synchronise shutter speed with flashlight. A faster shutter speed helps to compensate for magnified vibrations. |
| Aperture | f/8 – f/16 | Due to the subject's size, obtaining the right depth of field is crucial. Adjust accordingly within the two numbers. |
The Art of Diffusion
One of Lenz's learned and tested techniques that he believes makes his photography stand out is diffusion.
A diffuser is needed to disperse harsh lighting from the flashlight and produce soft light that ensures that every part of the subject is evenly lit. It helps to achieve a good separation of the subject from its background. 
The diffuser takes the role of the light source when light from the flash bounces off it. Ensure that the diffuser isn't too close to the flash to prevent hotspots from forming, and vice versa – being too far away will result in light loss for proper illumination.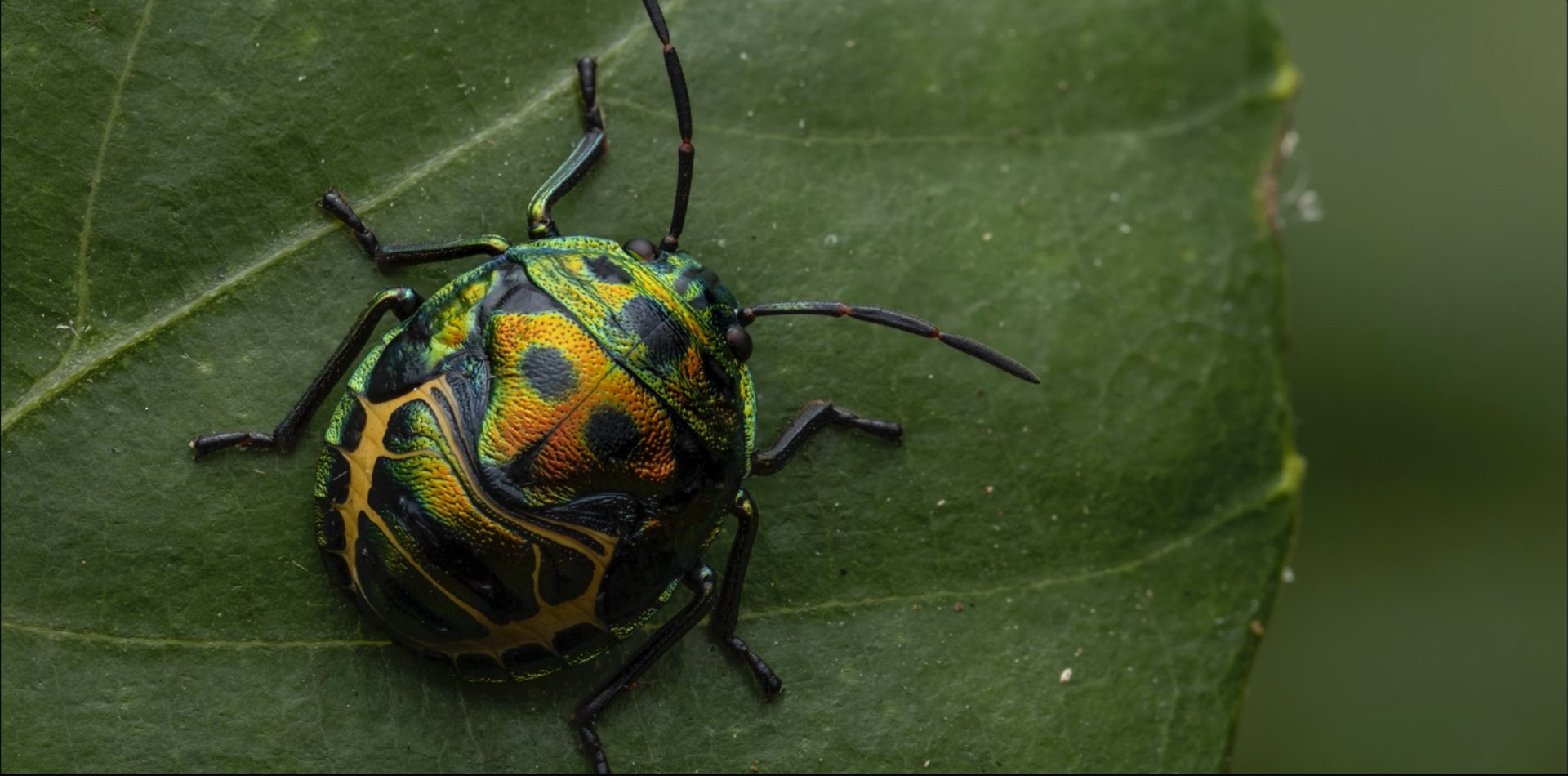 Diffusing light creates a glow or halo-like effect around the subject. Photo by Lenz Lim.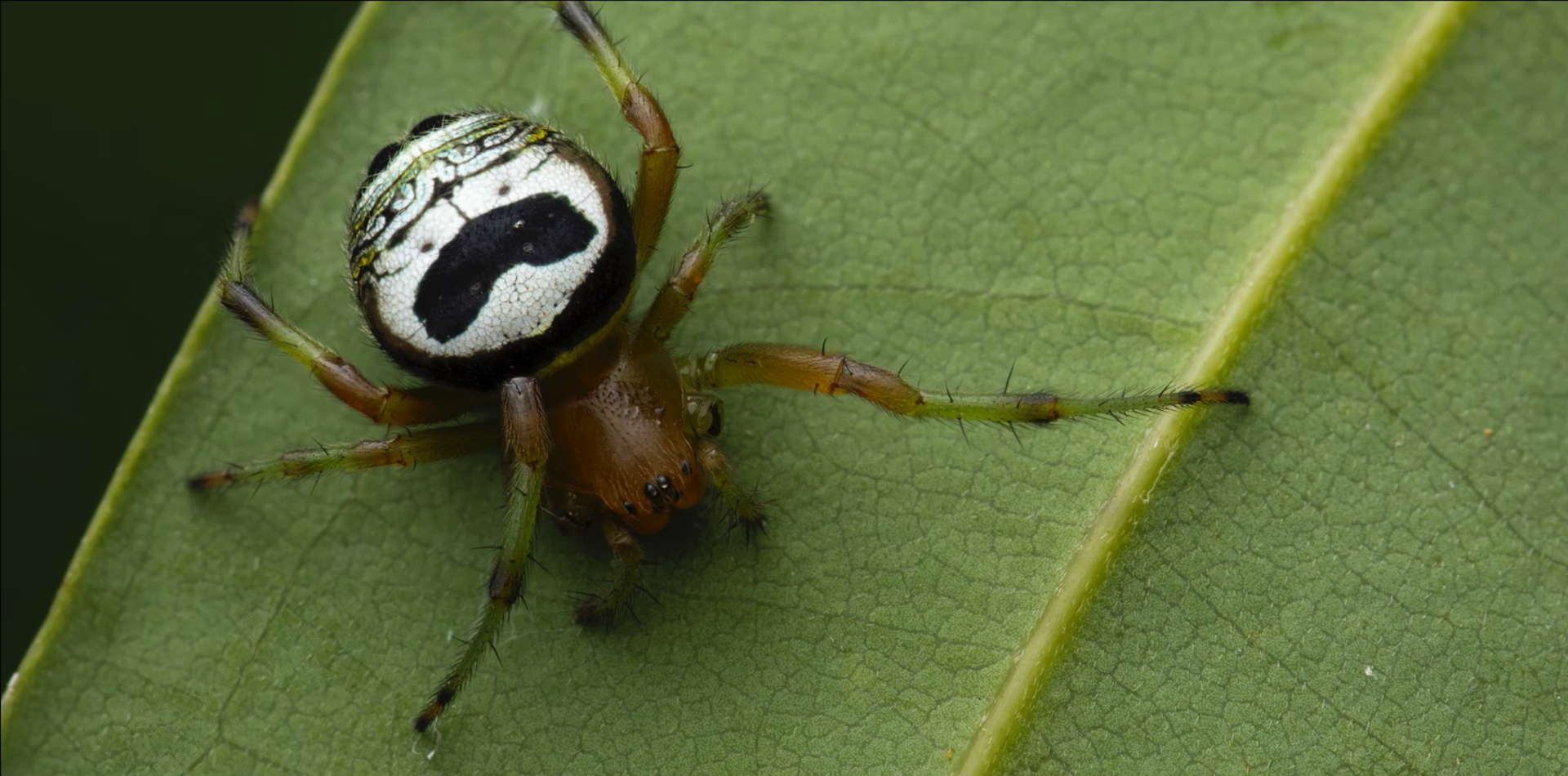 One of the biggest challenges is getting the light right. Photo by Lenz Lim.
Focus Stacking Technique
Focus Stacking is a photography technique that combines multiple images of the same subject taken at different focus points (and at the same focusing distance) to produce a resulting image with a deep depth of field. The final output image shows the subject in full sharp focus, which makes it particularly useful when photographing insects.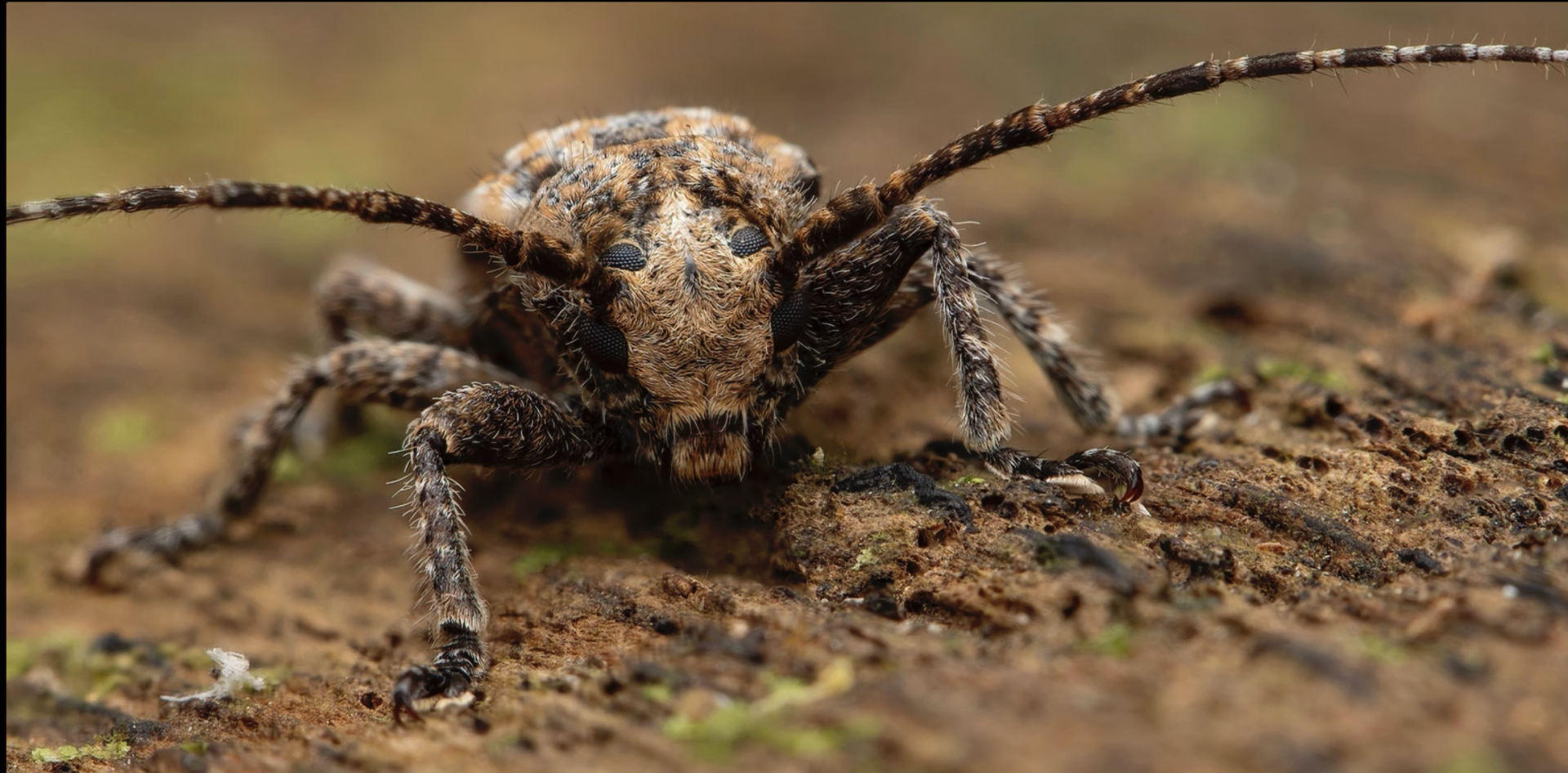 Final picture is a composite of six images. Photo by Lenz Lim.
Gear Up with Canon EOS R6 & EF 100mm f/2.8L Macro IS USM
In EOS R System - Reinvent Perspectives, Lenz walks us through his equipment set-up for his macro expeditions.
"The Canon EOS R6 is built solid and has the ergonomic elements that make it adaptable for most DSLR users. I particularly like the fact that my EF 100mm f/2.8L Macro IS USM works seamlessly on the RF mount using the Control Ring Mount Adapter EF-EOS R without any loss in quality."
Benefits of the Vari-angle LCD
Lenz often has to get up close and personal with his subjects, from crouching down low to kneeling while balancing his photography set-up in both hands without additional support.  He credits the Vari-angle LCD as a feature that has improved his workflow from his DSLR days – it helps him get eye level with his subjects even in awkward positions.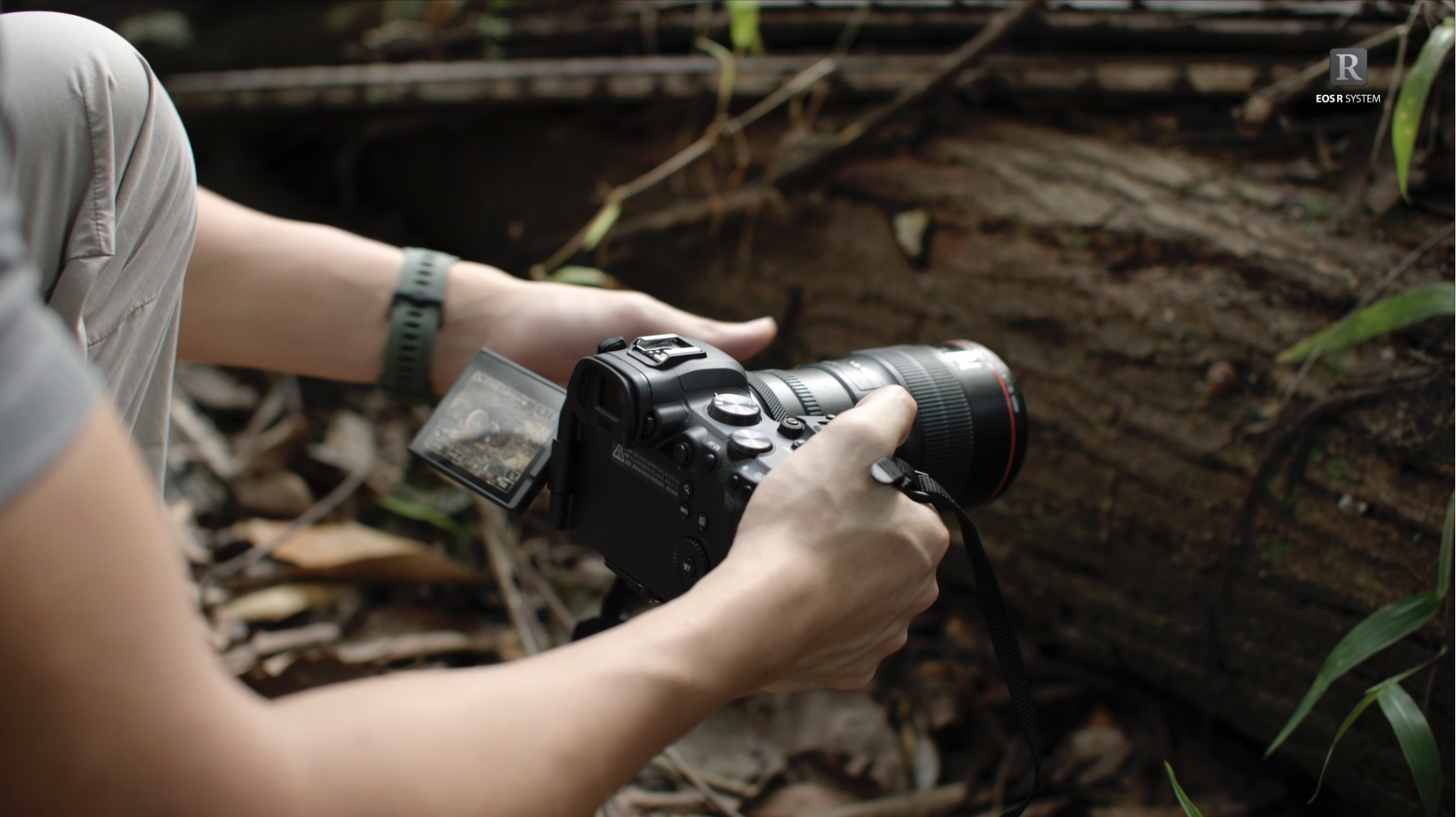 Lenz in action.
Achieve Accuracy with Focus Guide & Peaking
Focus Guide and Focus Peaking are two additional features of the Canon EOS R6 that Lenz uses in ensuring accurate focus.
It's challenging to get the correct focus on minute subjects. Lenz's routine is to zoom in on the insect in Live View Image magnification and use Focus Peaking to quickly and effectively check focus. Together with Focus Guide, he can pinpoint precise focus for even smaller creatures, especially when shooting in low light.
Precise Framing Through EVF
Lenz's adventures for arthropods often see him trekking forests deep into the night. In nighttime photography, focusing is often a big concern. Lenz finds that the EOS R6's Electronic Viewfinder (EVF) has no lag, allowing him to track his subjects through the EVF. With a resolution of 3.7 million dots, he's impressed by its responsiveness and sharp clarity even when framing in shots in pitch-black darkness.
High-Image Quality with 20MP Full-Frame Sensor
After all his nightly ventures, Lenz has found that the Canon EOS R6 performs remarkably well in low-light shooting conditions. With a 20 megapixel full-frame sensor, image quality is fantastic, with high levels of details in RAW files.
High Photography Success Rate with In-body Image Stabilisation
At macro levels of magnification, the slightest shakes or vibrations will cause image blurriness.
The final feature of the Canon EOS R6 that Lenz relies on the most in his workflow is the in-body image stabilisation of up to 8 stops. It helps to compensate for any image blurriness and ensure more usable shots after his outdoor sessions.
Getting Down and Dirty
About to head off for your macro adventure? Here are some tips and know-hows by Lenz to help you get started.
Spotting Insects during the Night
Insects are primarily nocturnal – as such, it is easier to find subjects at night, and they tend to be less skittish. An additional advantage is that fewer people are roaming around to scare off certain, more reclusive subjects.
Searching for insects at night is half luck and half technique. Hold your torchlight at eye level and aim at the undergrowth. Chances are, you've spotted a possible subject if you see a tiny spot of light reflected. Another tip is to shine your light from the underside of leaves and spot for silhouettes.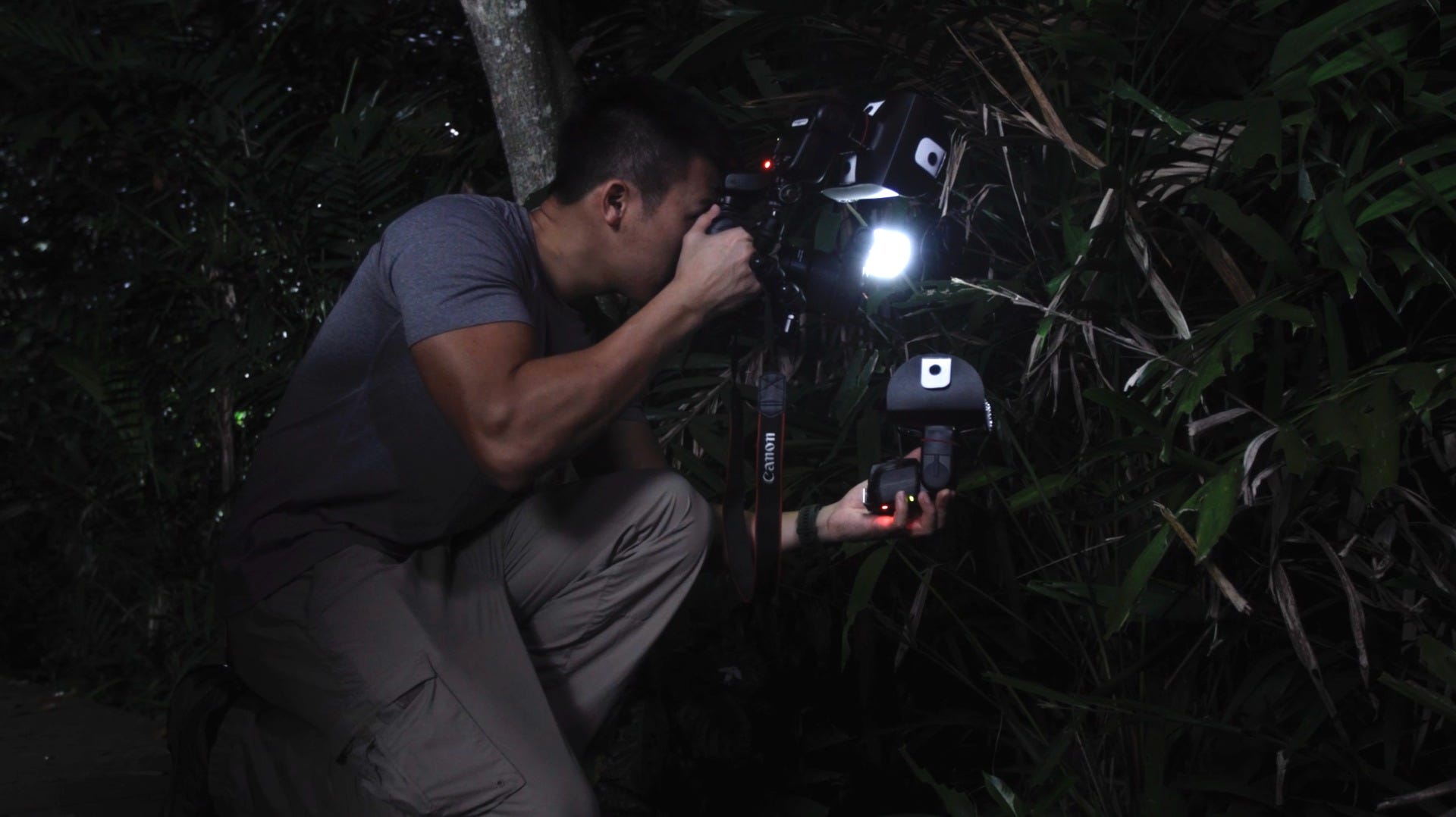 Nighttime photography. Photo by Lenz Lim.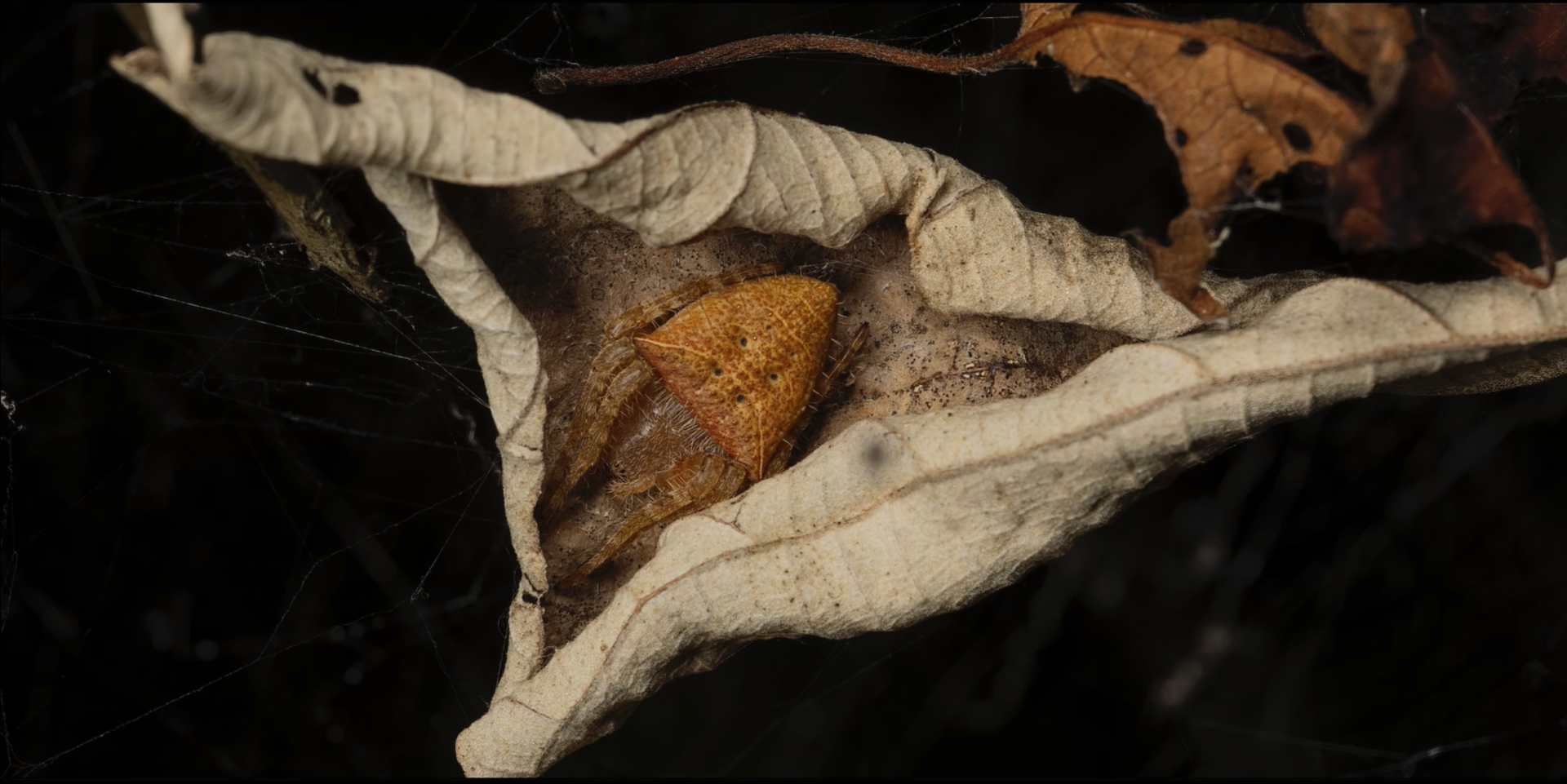 Brown spider hidden in leaf undergrowth. Photo by Lenz Lim.
Creative Lighting Techniques
For subjects with a translucent and shiny body, try experimenting with different lighting techniques to capture and show off their beauty.
Here's a tip: the best time to photograph these subjects is at night, where the darkness creates a blank canvas for the insect's charms to shine.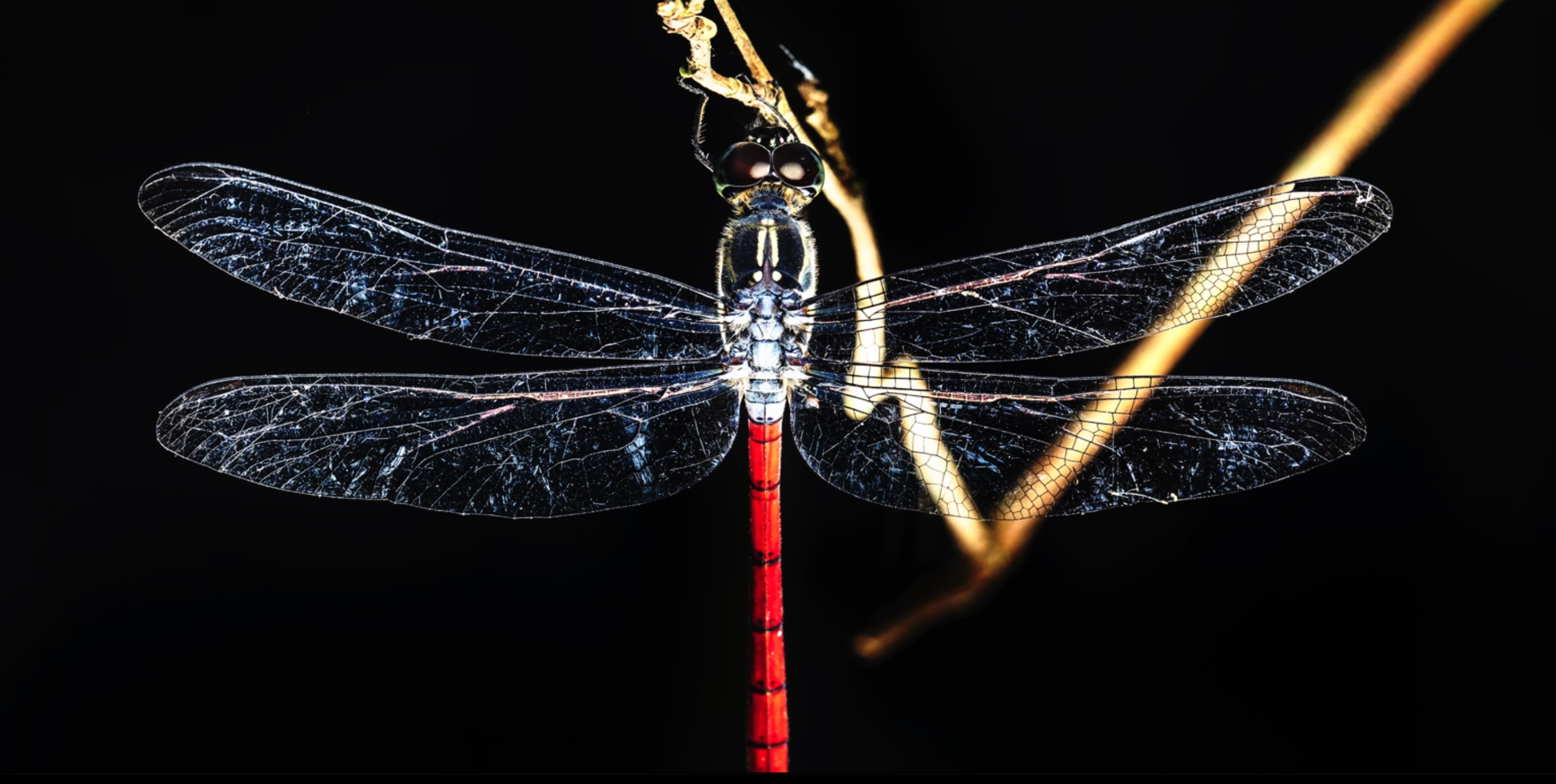 Dragonfly at night. Photo by Lenz Lim.
Protecting Biodiversity
Lenz wraps up with well-intentioned caution against the other side of macro photography.
"Nature is meant to be enjoyed as she is. You may see extreme magnified macro images online, and they naturally garner the most attention. These subjects are often killed with chemicals to stack hundreds of images to get everything in focus. I believe in improving the technique and skills of oneself to be able to achieve a high hit rate in the field while photographing your subjects in situ, ethically and responsibly."
Watch Lenz Lim on Youtube " Expert Tips for Insect Macro Photography Using EOS R6"