Fashion photography paints a picture of desire, fantasy, and imaginative reality.
More than art, arguably, fashion photography is a reflection of society at a standstill as well as a universal language. To truly define the nuances and subtleties in fashion photography is an ambitious task that cannot be ever fully addressed. Still, celebrated photographer Mario Testino comes close, as he describes the difference between fashion photography and other genres.
"Most photographers go and photograph something that they see, that exists, and that somebody else has created – they document it. But fashion photographers have to create what they're going to photograph. We have to go into the thought and build it up, get a girl, get a guy, get a situation, get the house, get the decor. It's the meaning of the word photography: 'writing with light'."
Lights, Camera, Magic with Lenne Chai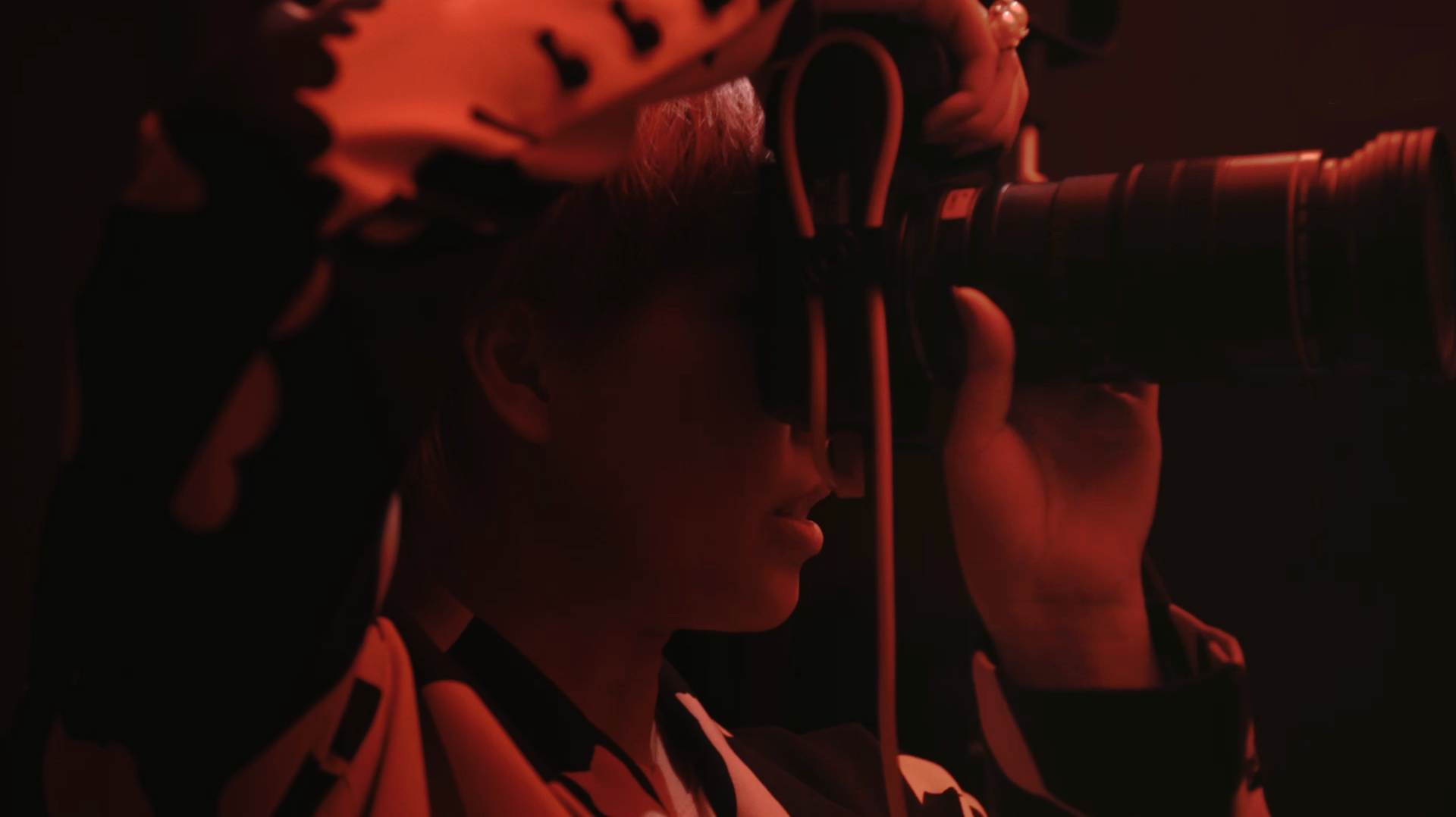 Reinvent Perspectives with Lenne Chai
Lenne Chai is a Singaporean photographer-director based in New York. Her work has been featured in Singaporean and international publications like Elle (USA), NYLON (Japan), and Harper's Bazaar (Singapore). She's worked with Samsung, SK-II, Universal Music, Bang & Olufsen Japan, and many more.
In the sixth and final video for Reinvent Perspectives, we invite Lenne Chai to share the ins and outs of fashion photography through her camera, her work, and her story.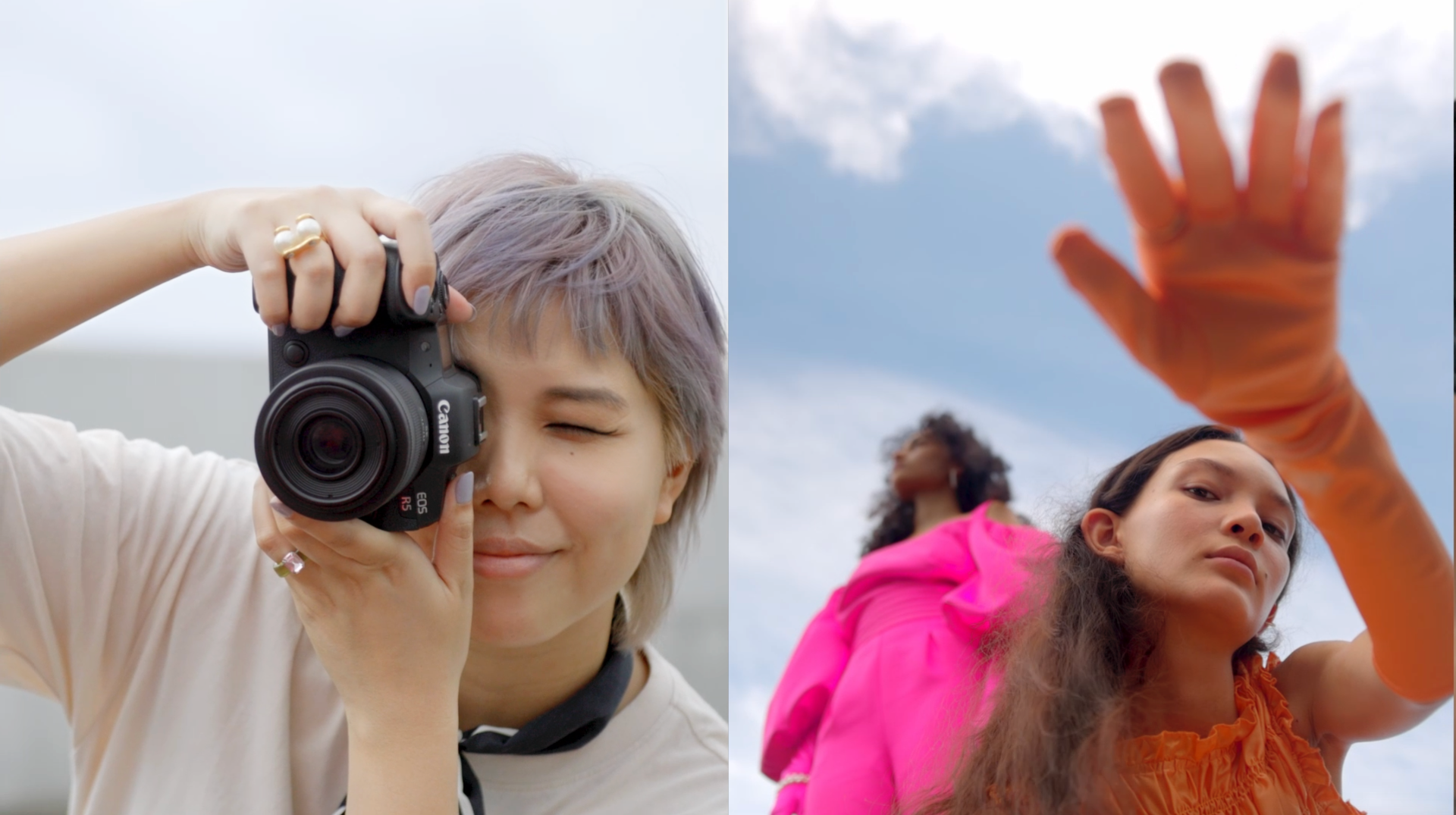 I find that photography is the medium I communicate best in
Fashion and Fiction: Storytelling through Concept
Eschewing the frills and fluff, Lenne's perspective on fashion is as mesmerising as her photography:
"I think that fashion is a kind of carefully crafted fantasy – every decision made adds to an imaginary world that is created solely for the image.
To create a fantasy that's convincing, I ask myself questions like – what the concept to achieve or explore is; what the main angle of this story is; and how to translate it across using fashion, lighting and casting."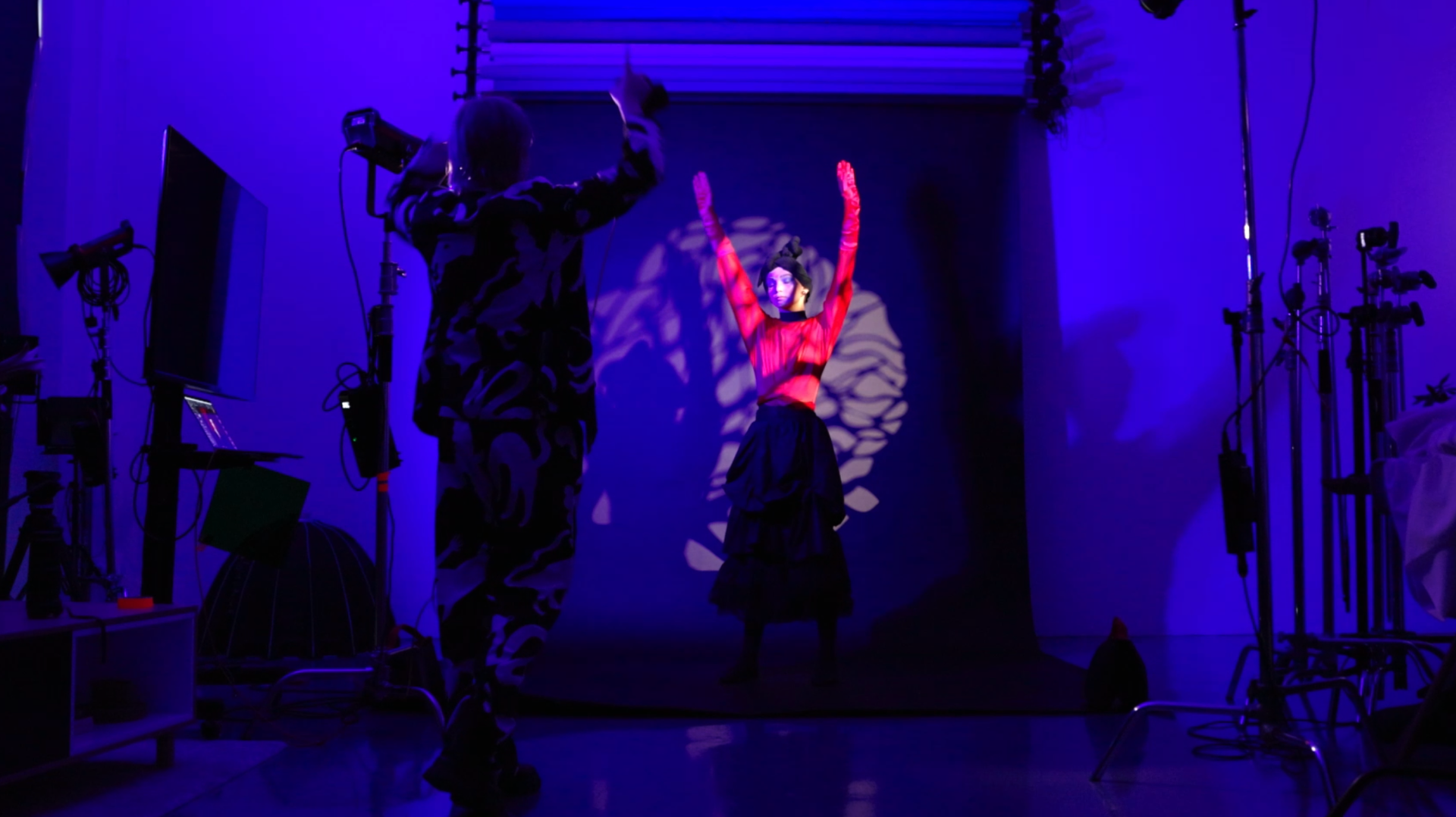 I used to be more visually driven, but I think I've become very idea-driven in recent years.
Insider Views: Photography as Social Commentary
As a photographer, Lenne has a front-row seat when observing how fashion shapes culture and vice versa.
"There's a lot we can infer from the way a person dresses, regardless of whether it's for a practical or stylistic reason. I enjoy using it as a tool for social commentary."
She goes on to elaborate further: "I feel that our opinions and views on the subject matter we're photographing tend to bleed into the photographs we're taking. The camera is honest in that sense."
Idea Spotlight: Framing Unique Perspectives
Lenne's inspiration for her work comes from her personal life experiences: "I think a lot about how I can lend my perspective (as a queer female Singaporean) to my work – early on in my career, I had the impression that fashion photography had to follow a eurocentric idea of beauty.
After living abroad, I've come to learn that what I can offer the world and what sets my work apart is my unique perspective.
So if my photos make [the viewers] feel something or challenge their perspective in some way, that's more than I can ask for."

I used to be more visually driven, but I think I've become very idea-driven in recent years.
Canon EOS R5: Upgraded Functionality
When asked her thoughts about the Canon EOS R5, Lenne reveals that she's been a fan of Canon for a long time.
"I've shot with the 5D series pretty consistently throughout my career, so upgrading to the R5 was a seamless process – it's so similar in terms of operation, but the body is lighter, the image quality is better, and the Vari-angle Touchscreen LCD meant that I could do more extreme top-down angles with ease."
A staple in her camera bag.
Lenne's Lenses: Her Favourite Three Primes
For her on-set creative process, Lenne mentions that she's quite "intense" about planning her shots and having a clear idea of what she wants the shot to look like and as a result, she creates controlled environments that leave nothing up to chance, down to the types of lenses she uses.
"I use three prime lenses primarily, and I use them interchangeably during the shooting process.
Spotted: Eye and Face Auto-focusing
Often, Lenne prefers directing the models and looking at the bigger picture rather than spending time poring over the technical nitty-gritty, so for outdoor photo shoots where time is of the essence, she relies on the EOS R5's Eye and Face Detection AF to help smoothen the workflow.
"It's so useful for fashion photography - instead of adjusting the focus for each shot I just rely on the Eye AF to make the call. It's surprisingly accurate, and even when there are multiple models, it's pretty easy to choose which eye I want to focus on."
It's great for capturing micro-expressions. -Photo by Lenne Chai.
Full-frame Shooting with 100% AF Coverage
And for indoor studio shoots, it's not always a straightforward process. Lenne's penchant for experimental compositions means that sometimes her equipment is pushed to the limit. But she finds that the EOS R5 is more than up to the challenge.
"Sometimes I get experimental with my composition, and I place the main focus of my images in strange corners, so 100% AF coverage is helpful when I'm trying things out."

Full coverage focus. -Photo by Lenne Chai.
Every Frame a Still: 20FPS Continuous Shooting and In-Body Image Stabilisation
Fashion photography has evolved creatively over the years, incorporating elements like movement and choreography and unique props like sound waves and even live animals (safe for both the models and the creatures, of course).
As for one of her memorable shoots with the EOS R5, Lenne recounts a particular feisty incident with a laugh, "I've used the 20FPS on advertising jobs where we needed a model to run across a bridge over and over again – I'm sure she was just as grateful for the 20FPS function as I was!"
Likewise, she finds this feature of the EOS R5 an unexpected lifesaver:
"I almost always shoot handheld, so with up to 8 stops of in-body image stabilisation, my shaky hands make less of an appearance now."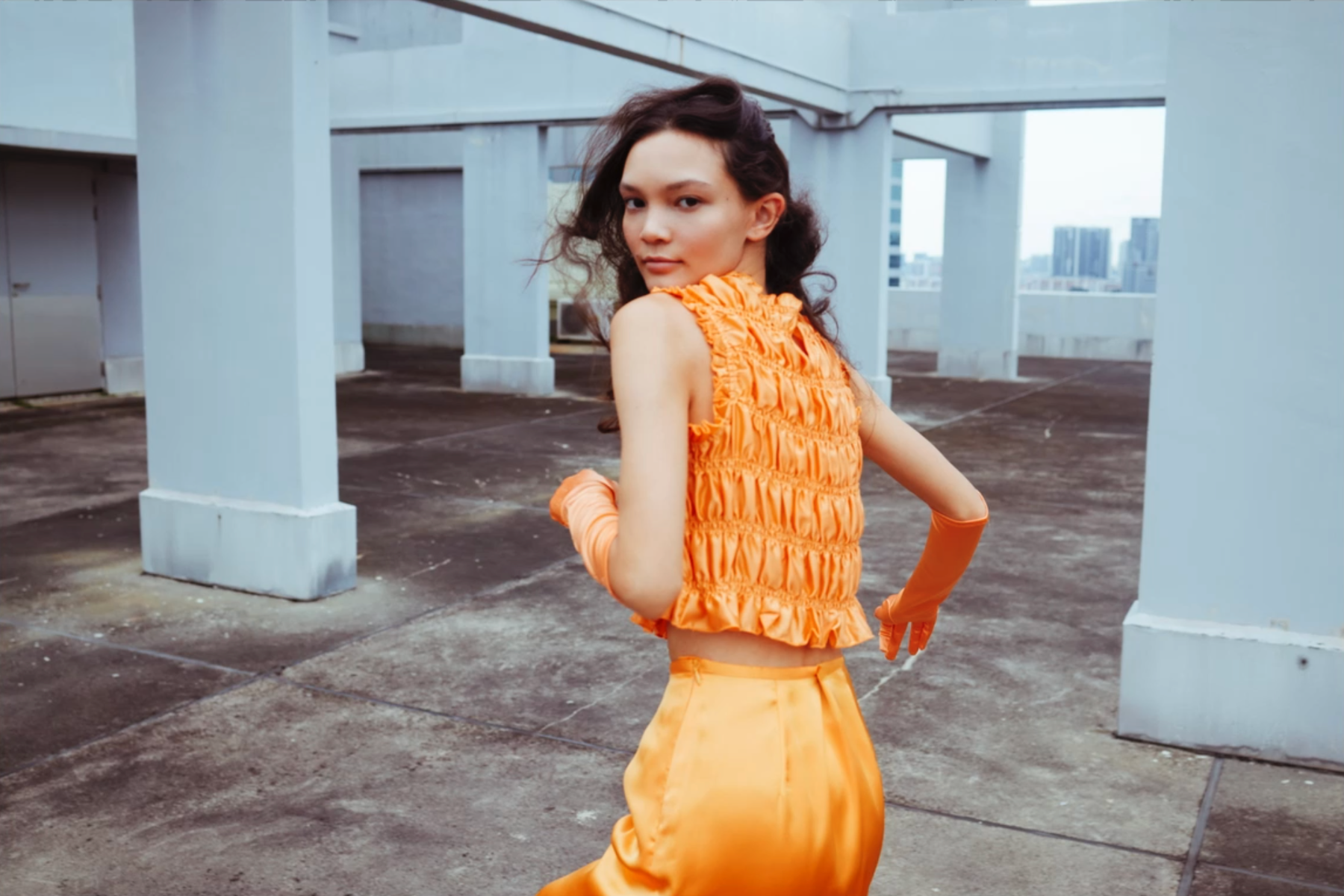 Movement in still. -Photo by Lenne Chai.
Artful Visuals with Canon Colour Science
To Lenne, colour is a storytelling tool.
"I find it easy to achieve the colours I like when I shoot on Canon RAW, and I already like how the colours are rendered in the first place, so I try not to change anything unnecessarily. I think where Canon colour science really shines is when I use my EOS R5 to shoot films – I'm definitely not as well-versed in video post-production, but I generally have an easier time grading Canon footage."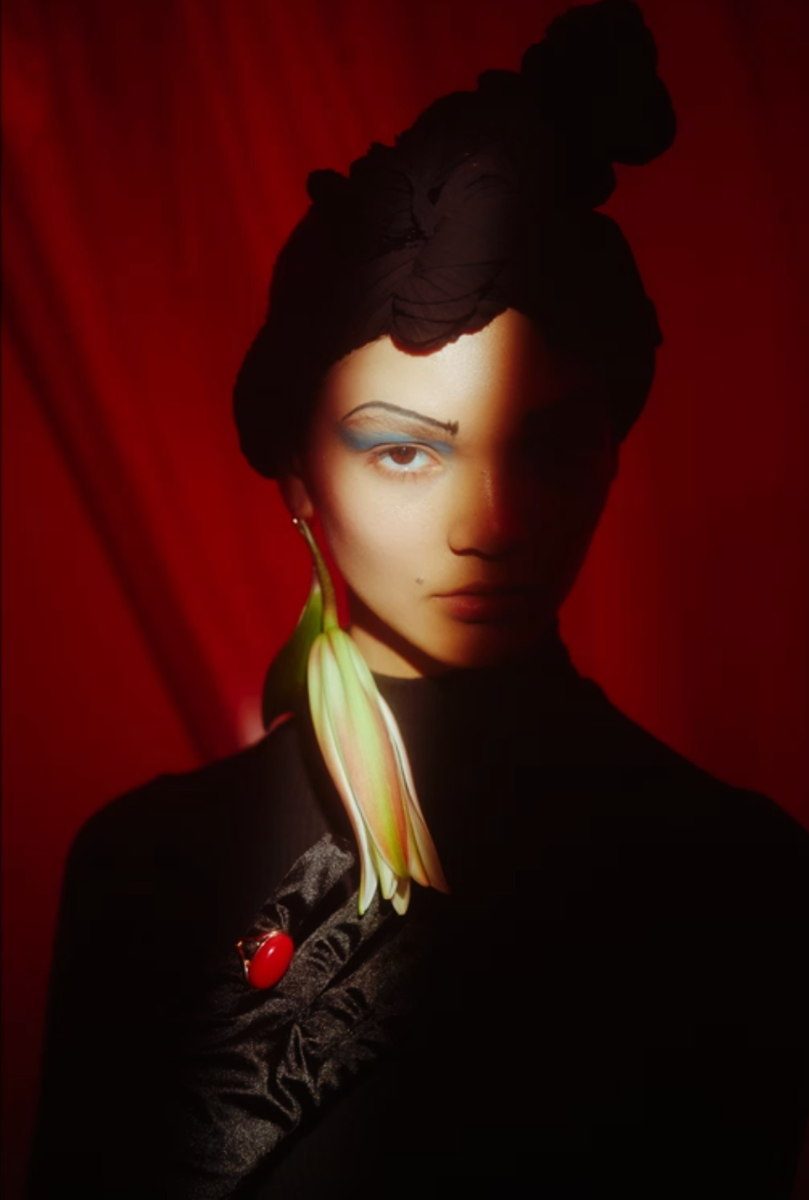 The colours are rendered beautifully in the first place. -Photo by Lenne Chai.
Light Painting with EV -6 Low-light Focusing
Light painting is a popular technique in fashion photography and is a technique that can create very bright highlights and very dark shadows – which is something of Lenne's personal preference.
There's a lot of complexity in executing the technique well. Besides ensuring that the model stays completely still, checking the shot's focus in complete darkness is also a real challenge. 
"I was pleasantly surprised when I used the EOS R5 and discovered that I was able to see in near-complete darkness. It's really amazing how the electronic viewfinder simulates the scene as if it's completely illuminated, and as a result, I'm able to get accurate and sharp shots with the EV -6 focusing."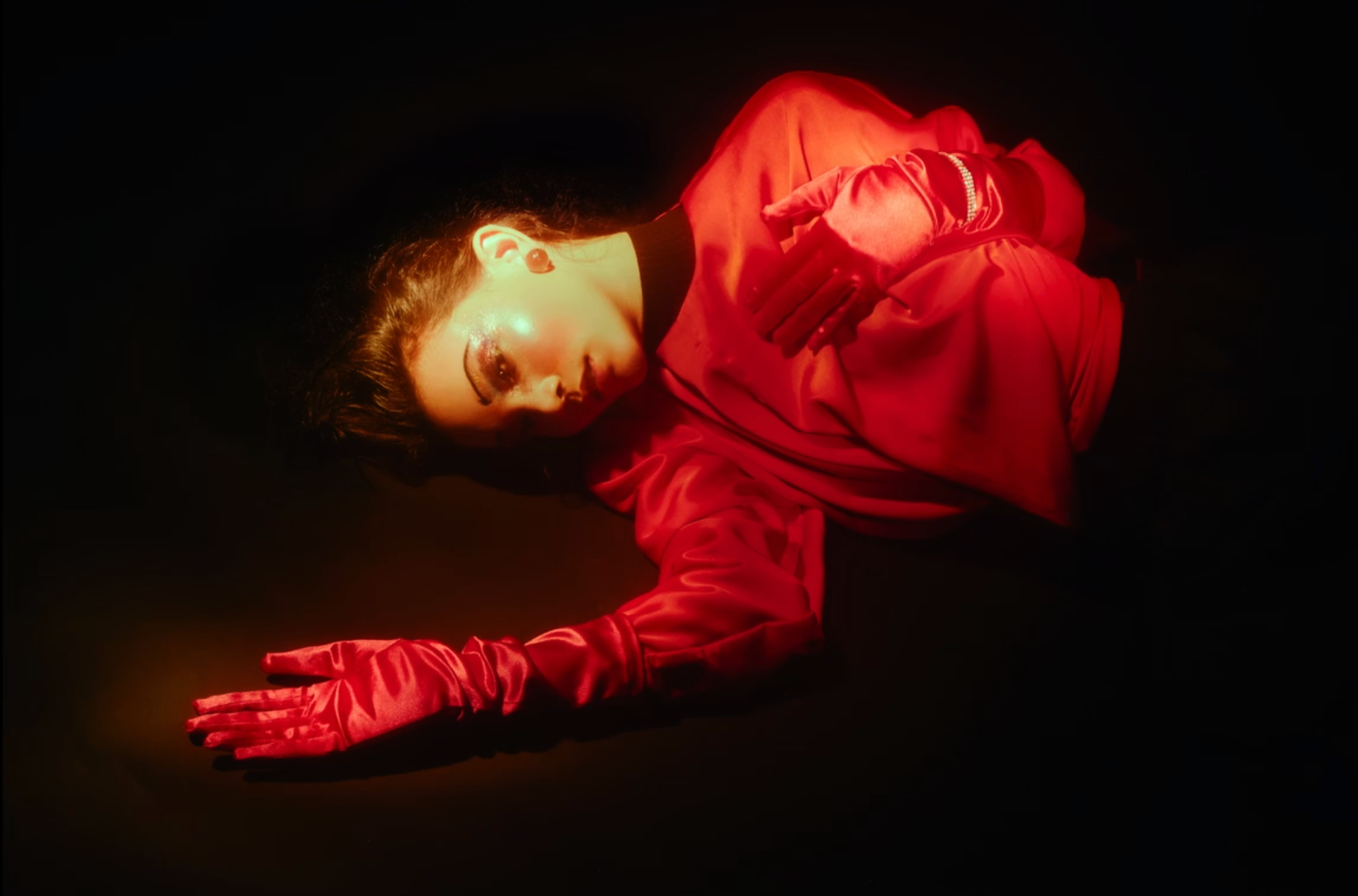 Soft-focus light, dream-like details in shadow. -Photo by Lenne Chai.
Enter Lenne's world of fashion photography and portraiture: